By George Hale, Science Outreach Coordinator, NASA Goddard Space Flight Center
Operation IceBridge has been a subject of interest over the past two weeks in different parts of the world, with a presentation in Copenhagen on the mission's recent work and the Antarctic campaign science operations meeting in Seattle.
At a meeting of the U.S.-Denmark-Greenland Joint Committee in Copenhagen on June 13, U.S. Embassy public affairs officer Robert Kerr delivered a presentation on the cooperative education and outreach efforts that took place during the 2012 Arctic campaign. During his presentation, Kerr talked about the joint effort between NASA, embassy personnel, and people from the Danish and Greenlandic education ministries to provide a research experience for Danish and Greenlandic teachers. He also spoke on their work getting journalists on board the NASA P-3B and showed examples of upcoming articles by a Danish reporter.
The IceBridge science and instrument teams held their 2012 Antarctic campaign planning meeting in Seattle from June 20-22. The meeting featured speakers from the IceBridge science and instrument teams, the Cryospheric Sciences Laboratory at the NASA Goddard Space Flight Center and from NASA headquarters. There were also planning sessions for the upcoming Antarctic campaign. Speakers talked about the various IceBridge instruments, the 2012 Arctic campaign, NASA's overall vision for IceBridge, the future of the mission and the status of ICESat-2, scheduled for launch in early 2016.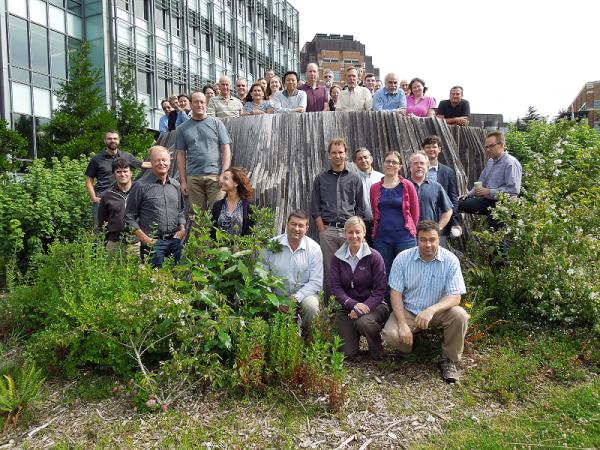 IceBridge science and instrument team members at the Antarctic campaign planning meeting at the University of Washington in Seattle. Credit: Hajo Eiken/ University of Alaska – Fairbanks.
During the breakout planning sessions, team members summarized the collected mission plans for Antarctica, identified the need for additional missions and discussed future directions and potential new measurement requirements. The IceBridge science meeting is one of many steps on the way to the Antarctic campaign scheduled to start later this year.