By Christy Hansen, IceBridge Project Manager, NASA Goddard Space Flight Center
Field work in the Arctic is a unique and challenging experience. It takes an experienced and tough team to complete mission objectives from start to finish despite the biting cold, long days and noisy environment. Early morning temperatures are often in the negative single digits, and the IceBridge team powers through it preparing for flight each day. A typical day's work can range 12 to 14 hours, a schedule that is repeated daily until the airport is closed or until the flight crew reaches a required hard down day.
My project management perspective allows me to take a step back and appreciate not only the technical expertise of our instrument and flight crew teams, but the masterful choreography that unwinds each day to ensure the P-3B aircraft is prepped and ready, the instruments are powered on and in working condition, and the weather and corresponding science flight plan has been assessed and defined. Being actively involved in all phases of Operation IceBridge makes for a stronger and well-versed leader better able to assist any part of the team at any time. By doing this, I can ensure we are on track to meet our mission and science requirements, assist with troubleshooting in and out of the field, better manage project milestones, and ensure streamlined communication across all IceBridge disciplines with a common goal.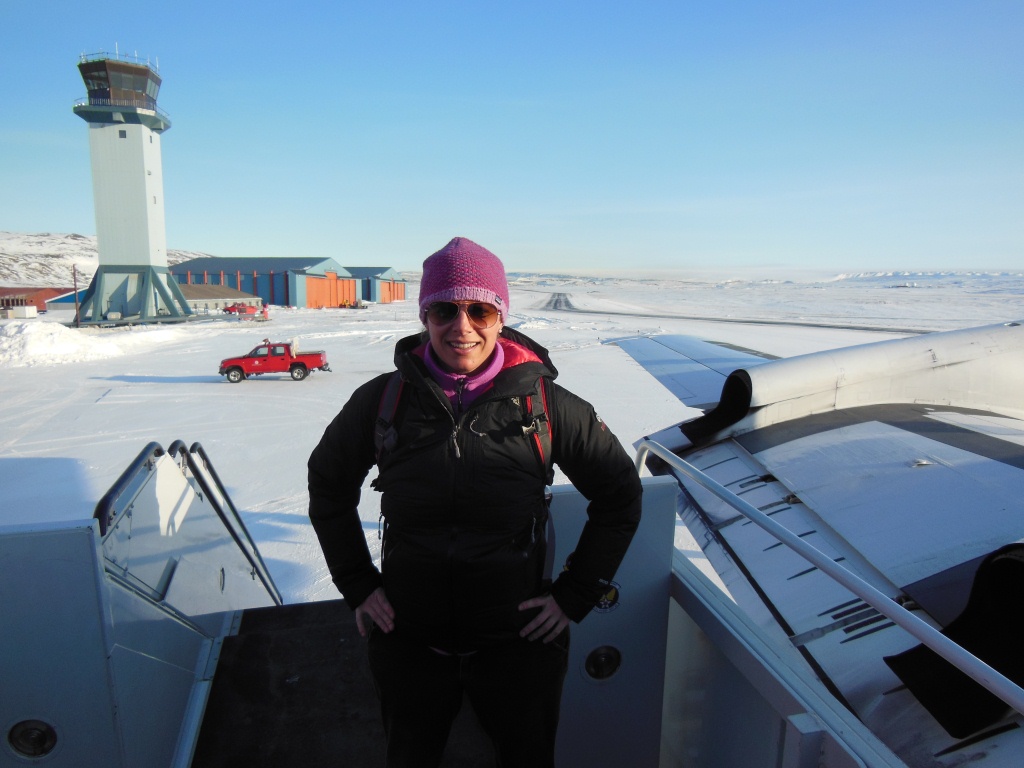 IceBridge project manager Christy Hansen on the stairway to NASA's P-3B. Credit: NASA / Christy Hansen
But why do we do this? How do we do this? 
We do all of this in the name of science, collecting polar geophysical data that will help characterize the health of the Arctic and Antarctic. The in-field data and derived data products IceBridge produces are helping to show annual changes in the ice. These data can be entered into models that can more accurately predict what might happen in the future in terms of ice sheet, glacier, and sea ice dynamics, and ultimately sea level rise; all of which have serious consequences for climate change.
But how do we reach these science goals? The steps and teamwork required are simply astounding. Each part of our team is like a puzzle piece and everyone is needed to complete the puzzle. All teams must clearly know their individual responsibilities, but also be able to work together and mesh where their job ends and another begins.
The choreography starts in the beginning, or planning phase where the science team establishes targets of interest on the ice in accordance with our level 1 science requirements. Then our flight planner designs survey flights, having a unique ability to efficiently mesh the science targets with the range and flight dynamic capabilities of the P-3B aircraft.
Next the aircraft office at NASA's Wallop's Flight Facility prepares the P-3B for deployment to some of the harshest environments on Earth and supplies the flight crew that executes the specific flight paths over our required science targets. The instrument teams provide the instrumentation—laser altimeters, radars, cameras and a gravimeter and magnetometer—and expertise in operating equipment and processing data during and after flights. Our logistics team deploys to the field ahead of time, establishing security clearances, local transportation and accommodations, and internet and airport utilities.
Finally, our data center ingests and stores the data that our team collects, ensuring it's useable and available to the wider community. Our data is not only used by polar scientists and other researchers around the world, it is also used to help satellite missions like the European Space Agency's CryoSat-2 and NASA's ICESat-2 calibrate and validate satellite instrumentation.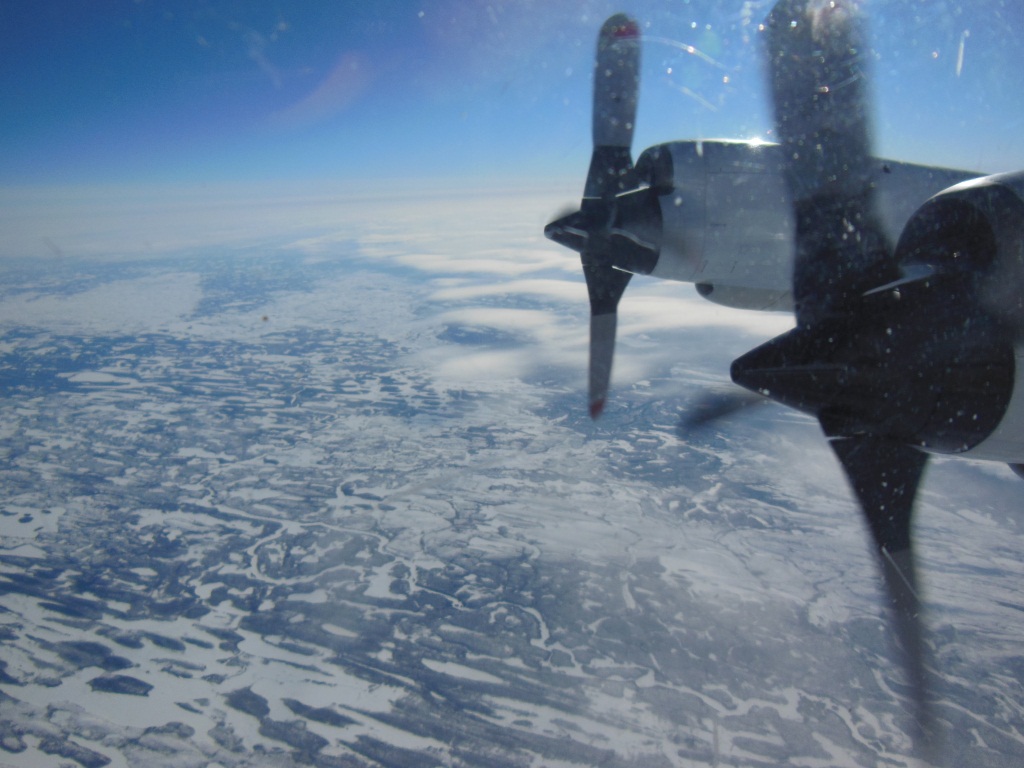 A view of ice from NASA's P-3B airborne laboratory. Credit: NASA / Christy Hansen
And finally, a day in the field …
Assuming a standard 8 a.m. local takeoff and eight hour mission duration, we generally have three major groups who follow different schedules pre-flight each morning.
The P-3 maintenance and flight engineer crew typically starts the earliest, heading to the airport about three hours before takeoff. They prep and warm up the plane, conduct some tests and fuel it, all in preparation for the instrument team arrivals and flight operations.
In parallel with aircraft prep, IceBridge's project scientist, project manager and flight planner team head to the weather office. The team works with local meteorologists, reviewing satellite imagery and weather models to determine the optimal weather patterns that support our flight requirements—clear below 1500 feet, the altitude we typically fly—and final target selection.
In the meantime, the instrument teams arrive at the aircraft to power up and check their systems prior to takeoff. By 7:30 a.m., the aircraft doors close, and we take off by 8. Our eight-hour flights range between flying high and fast, to low and slow over our targets, which include geophysical scans of ice sheets, glaciers, and sea ice.
We typically land around 4 p.m., close out the plane, check data and meet at 5:30 for a science meeting. Many folks continue to work for a few hours afterward, processing data or writing mission reports. All of this is repeated daily, for up to 6 days in a row, which can be exhausting, but in the name of important scientific research, an amazing team, and majestic polar landscapes, I could not imagine anything else.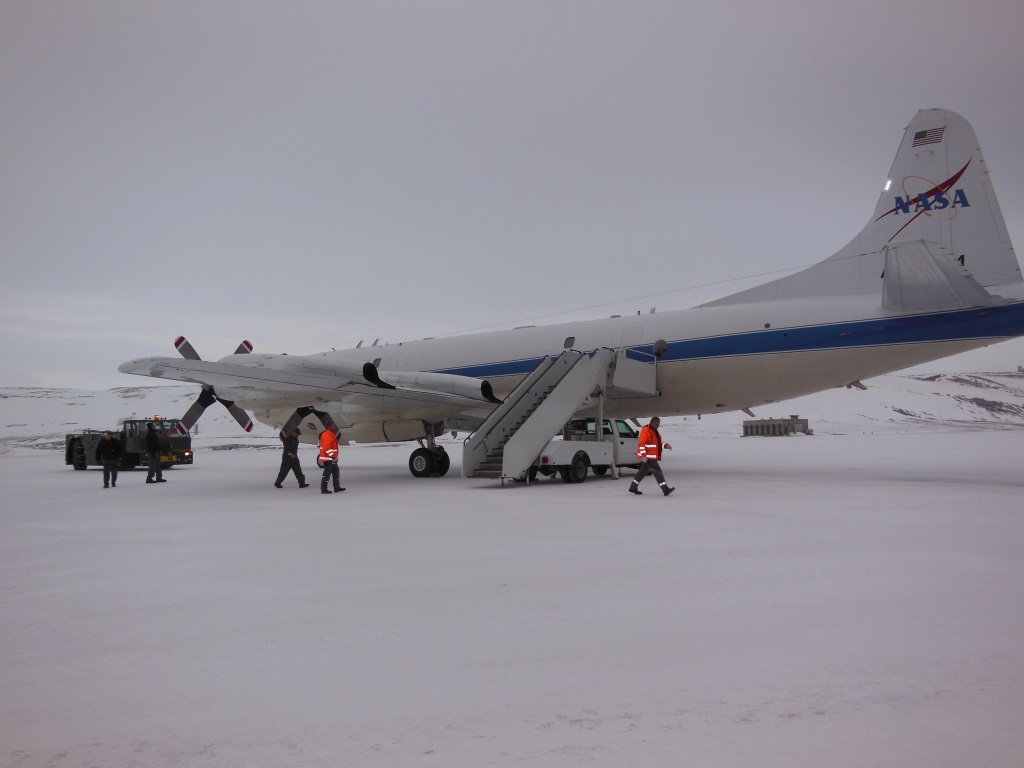 Crew members working on the P-3B. Credit: NASA / Christy Hansen