From: Kathryn Hansen, NASA's Earth Science News Team/Cryosphere Outreach
April 6, 2011
Kangerlussuaq, Greenland — It may seem obvious, but the Arctic is cold. I was surprised to arrive in Kangerlussuaq, Greenland, to see the hills and streets covered with snow and temperatures that make you second-guess the wisdom of leaving any skin exposed.
In 2010, the Kangerlussuaq leg of Operation IceBridge began about a month later, in May. What a difference a month makes. The hills were snow-free, flowers beginning to bloom, days were long, and the river rushed to break up the last chunks of winter ice. On down days, crew and science teams hiked, biked and went fossil hunting. Now we mostly stick to the warm indoors. Most of us, however, are willing to brave the cold and dwindling hours of darkness to catch a spectacular show of the northern lights.
This time lapse of the northern lights consists of 30-second exposures spanning just over an hour. We took turns behind the camera, running inside every 15 minutes to quickly warm up. Credit: NASA/Jefferson Beck
It turns out that the aircraft also battles the cold. On April 5, we planned to fly the mission's first science flight from Kangerlussuaq to collect data over Jakobshavn — Greenland's fastest moving glacier. At 6 a.m. it was just -11 F. The coffee pot onboard froze and fractured.
Shortly after take off, the cold temperatures resulted in a mechanical issue on the aircraft that forced an early return to Kangerlussuaq, Greenland. The P-3's adept aircrew was quick to diagnose and resolve the issue.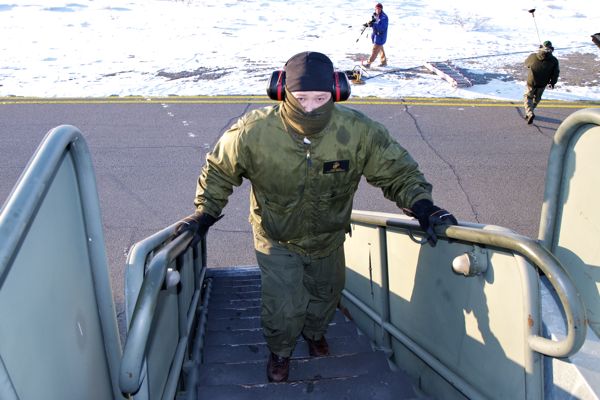 John Doyle, a P-3 flight mechanic, is on the aircraft early and prepared for the cold. Credit: NASA/Kathryn Hansen
On April 6, crew started the day extra early at 5:30 a.m. when the temperature measured in even chillier at -18 F. Additional heating for an extended period prior to flight led to a successful first flight from Kangerlussuaq. And what a spectacular, clear flight.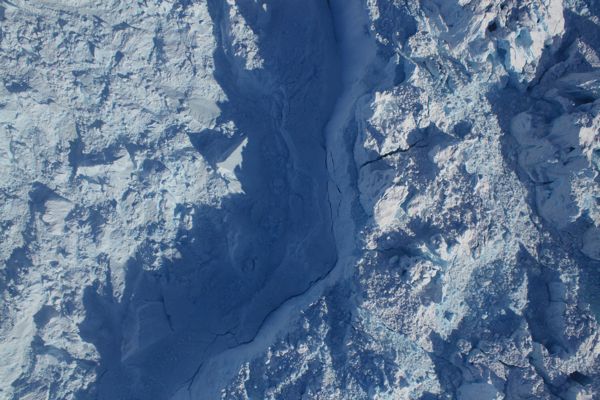 The DMS, a downward looking camera system, captured this shot of Jakobshavn's calving front. Credit: NASA/DMS team
Instrument teams onboard the P-3 also battle with the effects of temperature. Scientists with the laser altimeter use hair dryers to warm up the instrument, but too hot is also problematic. Scientists working with the radar instruments prefer the cooler time of year before melt ponds appear on the ice, complicating the way light reflects from the surface.
Having overcome challenges posed by the cold, we're looking forward to a long series of land ice flights over Greenland. There's word among the crew that the new coffee pot should arrive in a few weeks, in time for IceBridge's return to Thule. Thanks to the P-3 crew for what might be the best cup of Joe in Greenland!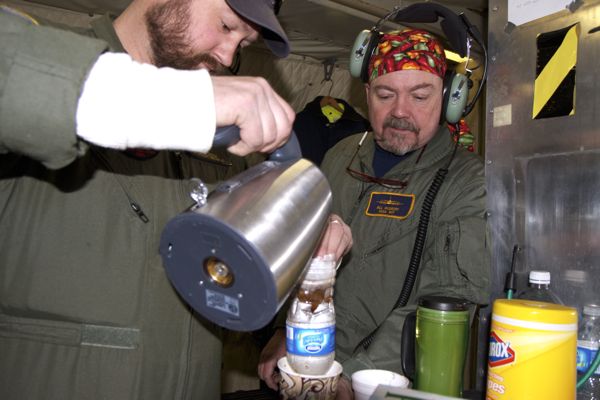 In the absence of coffee pot, P-3 crew construct a makeshift filter out of a water bottle. Credit: NASA/Kathryn Hansen