From: Michael Studinger, IceBridge project scientist, Goddard Earth Sciences and Technology Center at the University of Maryland, Baltimore County
Thule Air Base, Greenland — The IceBridge team arrived in Thule last week and the campaign is off to a good start. We flew four out of five days last week and accomplished three sea ice missions including an underflight of the European Space Agency's CryoSat-2 satellite over the Arctic Ocean. After a week here in Thule, we are settled in and our operations have become routine.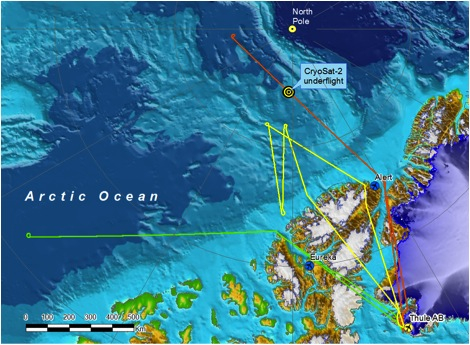 Operation IceBridge accomplished three science missions during the first week, including an underflight of ESA's CryoSat-2 over the Arctic Ocean just 120 miles from the North Pole. Credit: NASA
A typical IceBridge day in Thule Greenland starts at 5 a.m. when my alarm clock goes off. I start downloading satellite images to get an idea which missions may be possible to fly before I go to breakfast at 5:45 a.m. At 6:15 a.m., the pilot in command, mission manager, John Sonntag and myself meet at Base Ops to get a weather brief for the day.
The three meteorologists at Thule Air Base have known us for years and do an excellent job in providing us with a very detailed and specialized weather brief that we require for decision making. The demands for research flights are different from everyday air travel, and the polar environment poses great challenges in terms forecasting the weather. There is not a single weather station within hundreds of miles of our survey area that we could use to get a weather observation or that would provide observational data as input into a forecast model. Instead, we depend on satellite images that are several hours old. Visible images are dark for any area west of us. It requires experience and skill to interpret the forecast products for our purpose.
A few days ago, a model transect along our flight path showed dense cloud cover along the entire mission profile at 500 meters flight elevation calling for a no-fly day. We spent time with the meteorologists to understand the weather situation and decided to fly, despite the grim looking forecast. It was the right decision. The cloud layer depicted by the forecast model turned out to be a thin layer of haze that did not pose any difficulties for our laser and digital imagery sensors.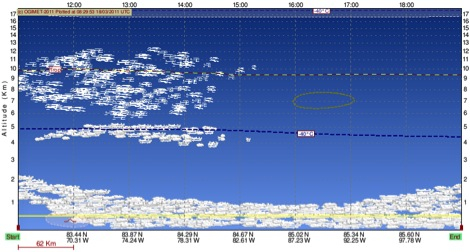 The weather forecast is shown along a survey line for a P-3 science mission. The forecast predicts dense cloud cover at the flight elevation (500 m), but after carefully studying the weather situation, we decided to fly. Credit: NASA
Between 6:30-6:45 a.m. we make a go/no-go decision. If we fly, the aircraft gets pushed out of the hangar and the fuel truck arrives. We need to collect one hour of static GPS data on the ground to calculate high-precision trajectory data from our flights. At 7:30 a.m. the door of the aircraft closes and we taxi to the runway to be ready for an 8 a.m. takeoff as soon as the tower opens.
We typically transit to the survey area north of Thule and then descend to 1,500 feet were we start collecting data. It's still early in the season, which means missions west of Thule are flown in near-constant twilight, with the sun following us as we go west. When we turn around the western end of the line and fly back east, it immediately start getting lighter with every minute of the flight.
During the flight the operators monitor their instruments and make sure we collect high-quality data. Occasionally, adjustments need to be made to ensure the instruments keep working.
In-flight adjustments are often necessary to keep the instruments working and collecting high-quality data. Adjustments often require work below the deck to access the instrument sensors in the belly of the P-3. Credit: NASA/Michael Studinger
At 3:45 p.m. we typically land to leave enough time for a 1-hour post-calibration with the aircraft outside. By 5 p.m. the aircraft is rolled back inside the hanger and doors close for the night.
John Sonntag and myself quickly stop by Base Ops for another weather brief to see what's in the mix for the next day. At 5:30 p.m. we have a science meeting where we discuss plans for the next day and talk about issues that are worth sharing with others. After the meeting, most people go straight to dinner followed by a late evening spent backing up data and processing data.
At 5 a.m. the next morning we start again.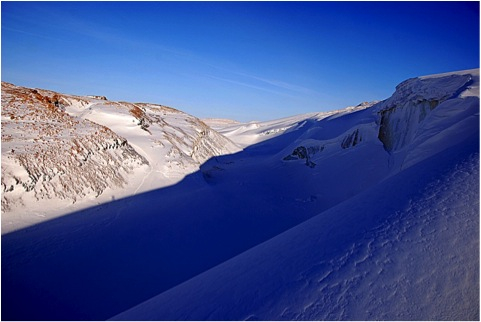 A lateral moraine can be seen at the margin of the Greenland Ice Sheet near Thule Air Base. Credit: NASA/Michael Studinger