By George Hale, IceBridge Science Outreach Coordinator, NASA Goddard Space Flight Center
This year's Arctic campaign distinguishes itself from previous ones by welcoming visiting teachers from the United States, Denmark and Greenland. Through cooperation with the U.S. Embassy in Copenhagen, the Danish Ministry of Education and the National Science Foundation's PolarTREC program, five teachers—two from Denmark, two from Greenland and one from the United States—were chosen to join Operation IceBridge in April.
These teachers will be embedded with the IceBridge team for several days, staying with IceBridge personnel in the KISS facility, riding along on survey flights and attending daily science meetings. The teachers will trade off days flying and days on the ground during their stay, with activities such as a glacier field trip and excursion to a nearby fossil site.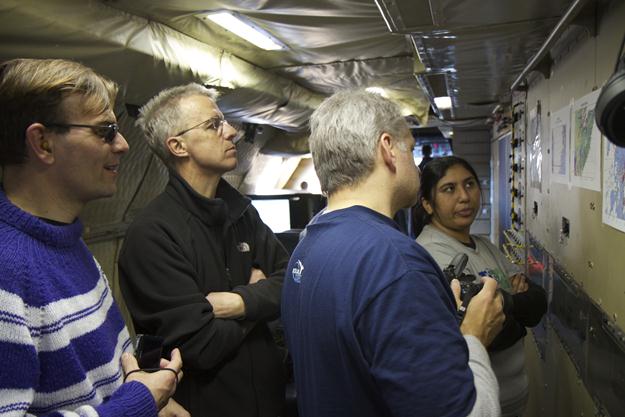 From left: Teachers Peter Gross, Erik Jakobsen and Tim Spuck, and CReSIS instrument team member Aqsa Patel examine the day's planned survey route. Credit: NASA/Jefferson Beck 
Meet the teachers
Peter Gross is a physics and math teacher at the Roskilde Technical Gymnasium in Roskilde, Denmark. Gross uses the science and math skills he gained in his education and during his time as an engineer and his tremendous enthusiasm for teaching to educate a new generation of science, technology and mathematics (STEM) students.
Erik Winther Jakobsen teaches at the Aalborg Gymnasium in Aalborg, Denmark, and has for the past several years worked on the subject of human environmental impacts and climate change. While working on and teaching this subject, Jakobsen noticed a need for more reliable time-series data on ice sheets, something Operation IceBridge is working to achieve. 
Sine Madsen has been teaching biology with an emphasis on climate change in the Arctic at the Building and Construction school in Sisimiut, Greenland, for the past 10 years. Madsen hopes to use her new knowledge about how climate is changing in the Arctic and share these insights with her students back home. 
Tom Koch Svennesen is a chemistry and comparative religion teacher at Aasiaat GU in Aasiaat, Greenland. Svennesen has seen firsthand how the ice in Greenland has changed in recent years. In his time teaching in Greenland, he has faced a variety of challenges such as the disadvantages faced by Greenlandic youth whose parents don't speak Danish and thus have a harder time learning the language used in Greenland's education system. 
Tim Spuck joins IceBridge as part of NSF's PolarTREC program, an effort designed to embed science teachers in with scientists doing polar research. Spuck teaches science in Oil City, Penn., and aims to use what he's learned through the program to better reach STEM students in his school. 
The Greenlandic and Danish educators arrived in Kangerlussuaq on April 13 and leave on April 19. Spuck got there the following day and will remain with IceBridge until April 25. After landing, teachers had a chance to see the town, buy groceries and settle into their rooms in the KISS facility before heading to the airport to greet the returning P-3. After the April 13 flight, the teachers sat in on IceBridge's daily science meeting, where they introduced themselves to the team and decided who among them would be the first to join a survey flight.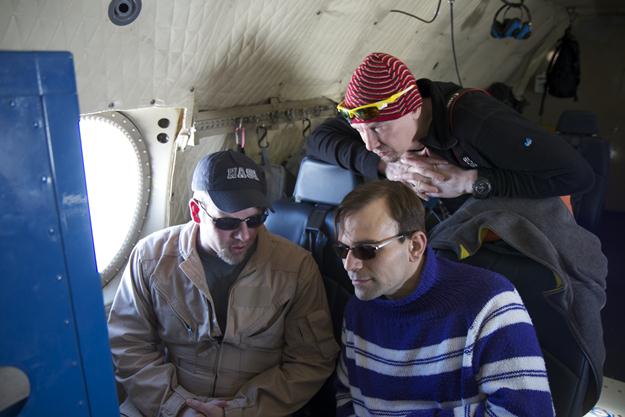 DMS team member James Jacobson (left) explains the basics of  the P-3's Digital Mapping System to Tom Koch Svennesen and Peter Gross. Credit: NASA/Jefferson Beck.
In the air and on the ground
On the morning of April 14, Svennesen and Gross boarded the plane, and after a quick safety briefing by the flight crew, strapped into their seats for the Helheim-Kangerdlugssuaq Gap survey. On this flight, the P-3 would quickly transit the ice sheet and start a series of roughly north-south runs across several glaciers on the east coast of Greenland. This survey, informally known as mowing the lawn, would start close to the shore, gradually moving inland with each pass.
This flight yielded a large amount of data for IceBridge scientists and many sightseeing and photo opportunities for everyone on the plane. Unfortunately, the flight had to be cut short a little early due to concerns about a possible fuel leak in one of the engines. The P-3's flight crew noticed streaks coming from the engine that could have indicated a leak and the pilots returned directly to Kangerlussuaq as a precaution. After an extensive engine test, the flight crew determined that what they saw was water from melting ice that caused the steaks.
On Sunday the airport was closed, meaning a well-deserved day off for the P-3 flight crew. Without a flight, many IceBridge people, including the teachers, took advantage of their time on the ground to visit the nearby Russell Glacier. The trip gave teachers and scientists a chance to interact, take lots of photos and see part of the Greenland ice sheet up close. That evening, after a busy and windy day of hiking around the ice, everyone gathered for a group dinner in the downstairs kitchen of the KISS facility, which gave teachers more opportunity to learn from scientists and each other.
Early on April 16, Madsen, Spuck and Jakobsen—who didn't get to fly on Saturday—joined the IceBridge team on another flight, this one a grid survey of glaciers in the Geikie peninsula. At the last minute, an extra seat opened on the P-3, and Gross joined the group while Svennesen stayed behind to work on the website he runs for his students. Despite a fair amount of cloud cover for part of the flight, this survey was another in a long line of IceBridge successes, with ATM only losing about five percent of its data due to clouds. When asked about his favorite moment during the flight, Jakobsen said he enjoyed seeing the interesting geology of the Geikie peninsula and, of course, the pitching maneuvers used to calibrate the radar.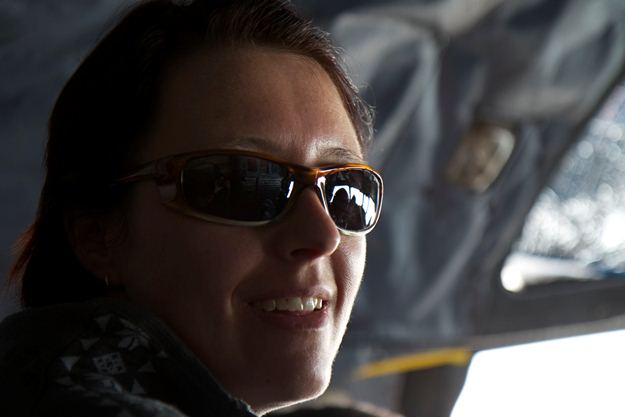 Sine Madsen sits in a jump seat in the P-3 cockpit during an IceBridge survey flight. Credit: NASA/Jefferson Beck
Teachable moments
On each flight the teachers take advantage of opportunities to talk to the science and instrument teams on board. Shortly after takeoff on both flights,  ATM program manager Jim Yungel gave a detailed explanation of the inner workings of the Airborne Topographic Mapper and the science behind using lasers to determine ice surface elevation from the air. They also got to learn more about the Digital Mapping System, gravimeter and magnetometer, and the P-3's various radar instruments.
The IceBridge experience continued even on non-flight days. During and after a group dinner on Sunday, teachers talked with several members of the science and instrument teams, learning more about IceBridge's instruments and polar science. Having educators working with scientists and living in the same facility allows for many of these informal question-and-answer sessions, which are often more enlightening than a lecture or information session, and gives them a taste of life as a polar scientist. The experience has also given these teachers new ideas for ways to teach science to their students in ways that are based on real world examples.