From: Kathryn Hansen, Science Writer, NASA Goddard Space Flight Center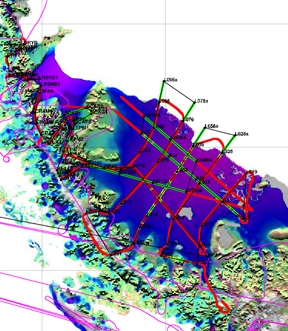 A last-minute change in flight plans made for another great science flight on Nov. 4. Initial plans were to make a high-altitude flight, according to program director Jim Yungel of NASA's Wallops Flight Facility.  But a forecaster in the Punta Arenas airport weather office advised crew of the potential for weather to interfere with the high-altitude measurements for the mission's LVIS instrument.
With a new flight plan in place, NASA's DC-8 took off just a few minutes after the scheduled 11 a.m. departure time. The new plan called for low-altitude flights over the Antarctic Peninsula.
"The forecaster was completely correct," Yungel wrote to colleagues after the flight. "We flew into sunny conditions with occasional very light high cirrus over flight lines, resulting in an outstanding data set over the Larsen Ice Shelf and many impressive glaciers."
Instruments that collect data at lower altitudes, including the Airborne Topographic Mapper, had a successful 11.3-hour flight.
"Much of this flight surveyed a grid over the Larsen C Ice Shelf," Yungel wrote. "Later in the flight we surveyed several significant glaciers in the central Peninsula area, including the Atlee, Flask, Crane, Hektoria, and Drygalski glaciers. It was a splendid day for flying glaciers!"
Despite the busy flight, Yungel managed to capture these images of the landscape from the aircraft window …