From: Kathryn Hansen, Science Writer, NASA Goddard Space Flight Center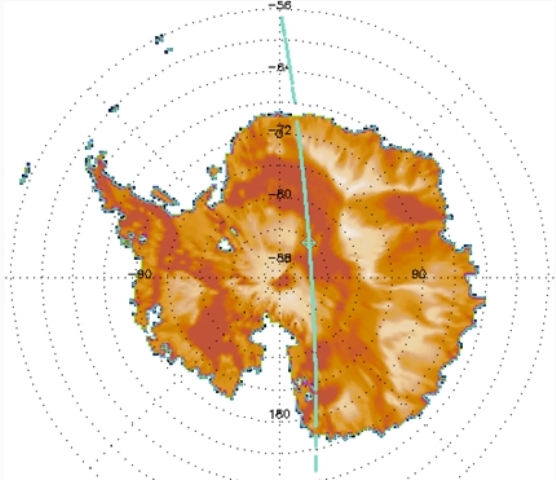 On Wednesday, Sept. 30, engineers, scientists and mission operations personnel gathered around a single computer monitor tucked away in a corner of a building at NASA Goddard Space Flight Center in Greenbelt, Md. They were waiting for an indication that communication was established between the satellite ground station in Boulder, Colo., and NASA's Ice, Cloud, and land Elevation Satellite (ICESat) in orbit. Once a connection was made, scientists can "command on" one of the satellite's lasers and resume the collection of critical ice elevation data.
ICESat has been collecting elevation information of Arctic and Antarctic ice sheets and sea ice since 2003, but it's uncertain how much longer the satellite's last of three lasers will operate. So, scientists this fall are using ICESat to calibrate similar measurements from aircraft flights over targets in Antarctica during Operation Ice Bridge. The aircraft campaign will help bridge the data gap until ICESat-II is launched.
As the satellite made a first pass over Antarctica at about 4:15 p.m. EDT, a glitch in communications foiled the first contact. The satellite's next pass over Antarctica gave ground station managers at University of Colorado's Laboratory for Atmospheric and Space Physics in Boulder, Colo., enough time to fix the glitch.
At 5:50 p.m., station connection with the satellite was a success and "all commanding was executed as planned," said David Hancock of Wallops Flight Facility in Wallops Island, Va., instrument manager for the satellite's GLAS instrument that houses the lasers.
"We now have two 'laser on' campaigns per year," said Shelley Thessen, of ICESat mission operations at Goddard. "It's a common occurrence, but I still get a lump in my throat every time."
Subsequent passes over Antarctica were also successful. Scientists have started analyzing the science data returned from the first pass, seen in the figure above as a blue line across central Antarctica.
"On this first pass, there was a small amount of thick cloud cover over the ice sheet," said Jay Zwally, ICESat project scientist at Goddard. "Accurate measurements of the surface elevation were obtained from 93 percent of the 23,297 laser pulses over the ice sheet."