From: Kathryn Hansen, Science Writer, NASA Goddard Space Flight Center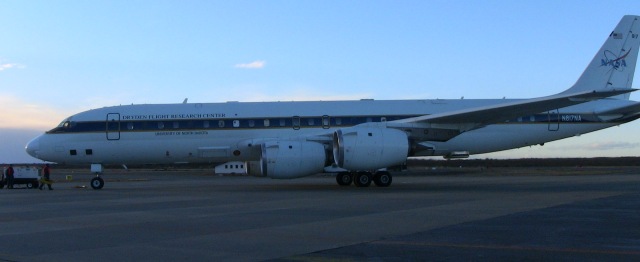 NASA's DC-8 returning from its second Antarctic flight of the mission.  (NASA/Steve Cole)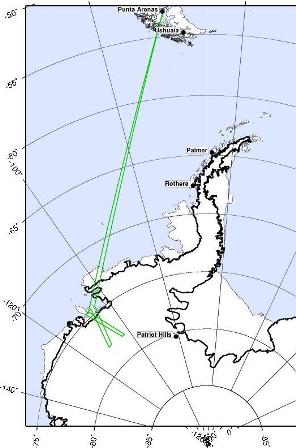 On Sunday, Oct. 18, researchers and crew flew on the DC-8 aircraft's second Antarctic flight of the Operation Ice Bridge Campaign. The mission was dedicated to reflying areas of Thwaites Glacier previously mapped by the ICESat satellite to see how the glacier has changed.
The team took advantage of the good weather, flying at low altitude, spending about three hours surveying the glacier with the Airborne Topographic Mapper (ATM), the campaign's primary instrument. ATM pulses laser light in circular scans on the ground, which reflects the pulses back to the aircraft. The laser data are then converted into elevation maps of the ice surface.
Another instrument, the Multichannel Coherent Radar Depth Sounder (MCoRDS), collected thickness measurements over the glacier. The instrument team's initial analysis of the data turned up unexpected depth.