From: Kathryn Hansen, NASA's Earth Science News Team / Cryosphere Outreach
April 8, 2011
Kangerlussuaq, Greenland — Today's mission was a mix of the exciting and dull – from spectacular scenery over an ice cap, and up some glaciers and over Jakobshavn's calving front, to the monotonous but scientifically important back-and-forth mapping of Russell glacier. It was essentially a "mop up" mission, combining targets from three separate flight plans.
We starting the day off flying over Sukkertoppen Isflade, our first ice cap of 2011! Flying over the blanket of ice, the scene abruptly ends as ice cascades down steep terrain into an open-water fjord that separates the ice cap from the Greenland Ice Sheet. Ice caps, while separate from the main ice sheet, are also undergoing changes and contribute to sea level rise.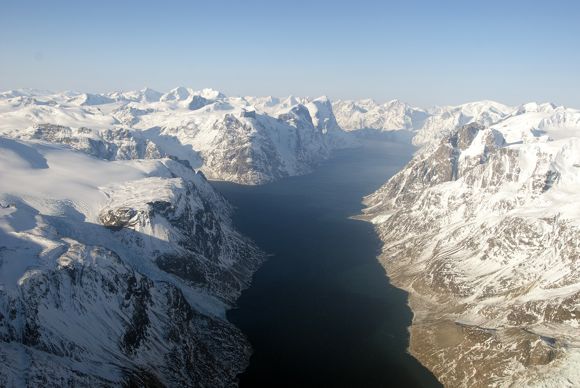 An open-water fjord separates the Sukkertoppen ice cap from the Greenland Ice Sheet. Credit: NASA/Michael Studinger
Continuing south, we flew along several glaciers starting with Taserssuak (not thinning) and later on over Kangiatanunatasermia (thinning). The difference is interesting, as both glaciers are fed by the same fjord system. Scientists want to keep watch over these regions to continue to see how the change is changing.
We flew four glaciers fed by the Nuuk flord system including this glacier with a colorful name, Akugdlerssupsermia. Credit: NASA/Robbie Russell
After hitting some clouds as expected from the morning's weather brief, we headed back north and reflew the center flow line of Jakobshavn — always spectacular — before flying over Illulisat Isfjord, which was surprisingly free of ice. The reason for the ice-free conditions was unknown to scientists onboard. There could have been fewer calving events, warmer water, or wind patterns that pushed ice out of the area.
"Half of the Illulisat Isfjord was open water with several fishing boats in the area, something I have never seen before," said Michael Studinger, the mission's project scientist.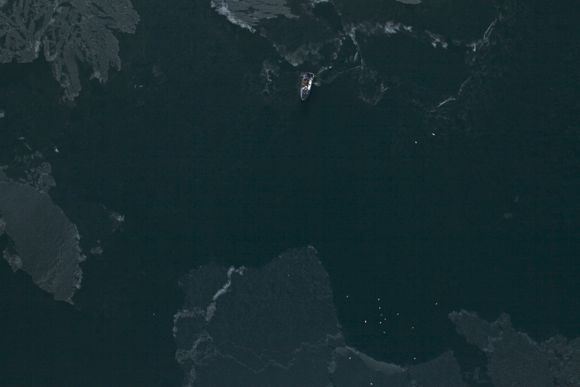 A camera mounted on the belly of the aircraft captured this image of a fishing boat (top) in the Illulisat flord, which was mostly open water with a few visible patches of ice. Credit: NASA/DMS team
Next it was on to Russell Glacier, just outside of our home base, Kangerlussuaq. Back and forth, this was a true "moving the lawn" pattern. I may have even taken a brief nap. But to scientists, this mapping is critical. A radar instrument onboard will get a good look at what's below all that ice and help scientists better understand how the bedrock influences the flow of glaciers.