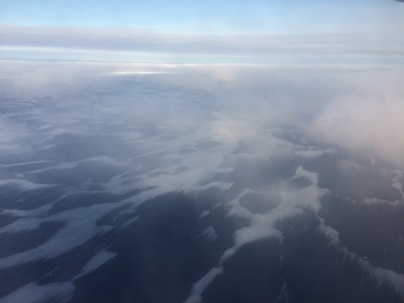 By Michal Segal Rosenheimer, Research Scientist, NASA Ames Research Center
Editor's note: The following is a first-hand account of ARISE survey flights by one of the mission's researchers. To see the first two days' accounts, visit:
http://earthobservatory.nasa.gov/blogs/fromthefield/2014/09/17/flying-with-arise/
Day 3 (Sept. 16, 2014)
Today was a long flight day. It started off by trying to guess where the high clouds (i.e. cirrus) will move in. We had to choose between three options, and our choice turned out to be a good bet. We flew to the edge of the sea ice to try to characterize both its exact mapping and see whether the clouds look different or have different characteristics, height and composition (i.e. water and ice) above the sea-ice versus open ocean. We had a mix of high clouds above ice but also clear regions, with black and white ice, as seen in the pictures. The sun was posing for us and we got to see some halo forming around the sun. This means that we had ice clouds (cirrostratus) with particular ice shapes of smooth hexagonal crystals are reflecting and refracting the sun rays to form this circle of light surrounding the sun.
Day 4 (Sept. 18, 2014)
Today was a challenging day. We were after clouds, and oh, they are "hard-to-get" into a specific posture. We flew high to check the area and had a gorgeous stratus deck below us. The word stratus in Latin means "spread out" and boy, they were spread out all right.
At some point we saw an opportunity to dive below the clouds,  and cruising over the broken sea-ice, we felt like we were in a Star Trek episode.
Clouds are so diverse and changeable, so we want to sample them as often as possible to get a feel for their heights, thicknesses and what type of particles they include (water, ice or a mixture of both). This is important because their location in the atmosphere (how high or low they are) and their composition dictates the amount of radiation they absorb or scatter back into space and how they affect the surface below, either warming or cooling. This was a challenging and bumpy flight from all perspectives, but all in all it ended well.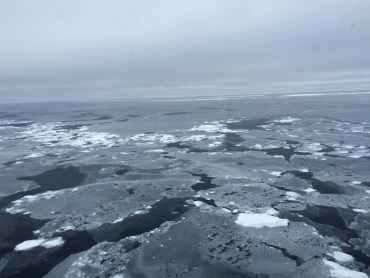 Summary
We had many more flights, some I flew myself, some were flown by my 4STAR team fellows. All flights were magnificent in that they covered pristine sea ice regions, where human access is difficult and low and high clouds over these regions (especially at this time of year) means even the satellites often cannot take measurements. We had some weather and technical hurdles some days, but we succeeded in most of our goals, which were to measure sea-ice formation and state, study sunlight and thermal energy over the sea-ice and open ocean, and characterize cloud spread and type in this complex and important region.
Our final science flight was on Oct. 2, and was dedicated to instrument calibration. It lasted for almost nine hours and ended after sunset, since some of the instruments (including our own SUN-photometer) needed to be calibrated by the sun, looking at the wide range of sunlight intensity during sunrise or sunset period. We flew over some dormant volcanos in the southern part of Alaska, over glaciers and Denali park. What a great finale to a great campaign! Looking forward for next year's one already.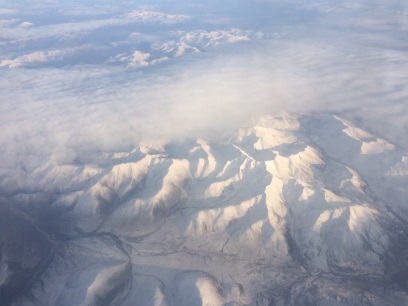 This entry originally appeared on the NASA Earth Observatory blog Notes from the Field.
http://earthobservatory.nasa.gov/blogs/fromthefield/2014/10/08/more-flying-with-arise/