From: Michael Studinger, IceBridge project scientist, Goddard Earth Science and Technology Center at the University of Maryland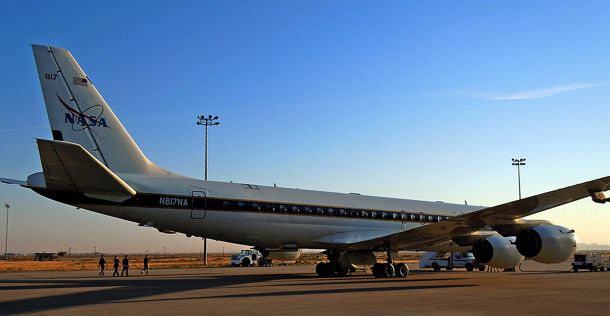 The DC-8, parked outside the hanger at NASA's Dryden Flight Research Center, is prepared for a instrument test flight. Credit: NASA/Michael Studinger
Oct. 17, 2010
Dryden Flight Research Center, CA — Welcome to our 2010 Antarctic campaign with NASA's DC-8 Flying Laboratory. For the past two weeks Operation IceBridge teams have been busy installing instruments and sensors onto the DC-8 aircraft here in Palmdale, Calif., at NASA's Dryden Flight Research Center. Over the next couple of weeks we will fly with the DC-8 over Antarctica to measure changes in thickness of the sea ice surrounding Antarctica and to monitor changes in the thickness of ice sheets and glaciers that cover 98% of the Antarctic continent.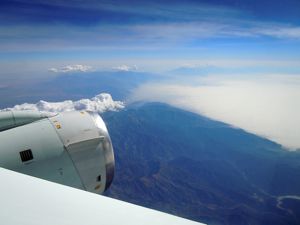 But before we can go south we have to go through a series of test flights here in California to make sure that all the installed sensors work and to calibrate our science instruments. In order to do this we fly over target sites in the Mojave Desert that we have surveyed on the ground a few days before the test flights. The desert environment that we have selected for our test flights here is very different from the barren land of snow and ice that we will be flying over the next couple of weeks and we all enjoy the low altitude flights over the Mojave Desert, the San Gabriel Mountains and the San Andreas Fault. When the pilots ask you if it would be a problem if the belly of the aircraft is facing the sun you know that you are in the world of research flying. We did a couple of 90 roll maneuvers at high altitude over the Pacific Ocean to calibrate the antennas of the ice-penetrating radar systems that we will use to survey sea ice, glaciers, and ice sheets.
Instrument test flight over the San Gabriel Mountains in California. Credit: NASA/Michael Studinger
The IceBridge teams have enjoyed a few days of work here in warm and sunny California and we are now ready to fly to Punta Arenas in southern Chile, which will be the base of operation for our Antarctic flights. We are looking forward to another successful campaign with exciting new data and spectacular Antarctic scenery.