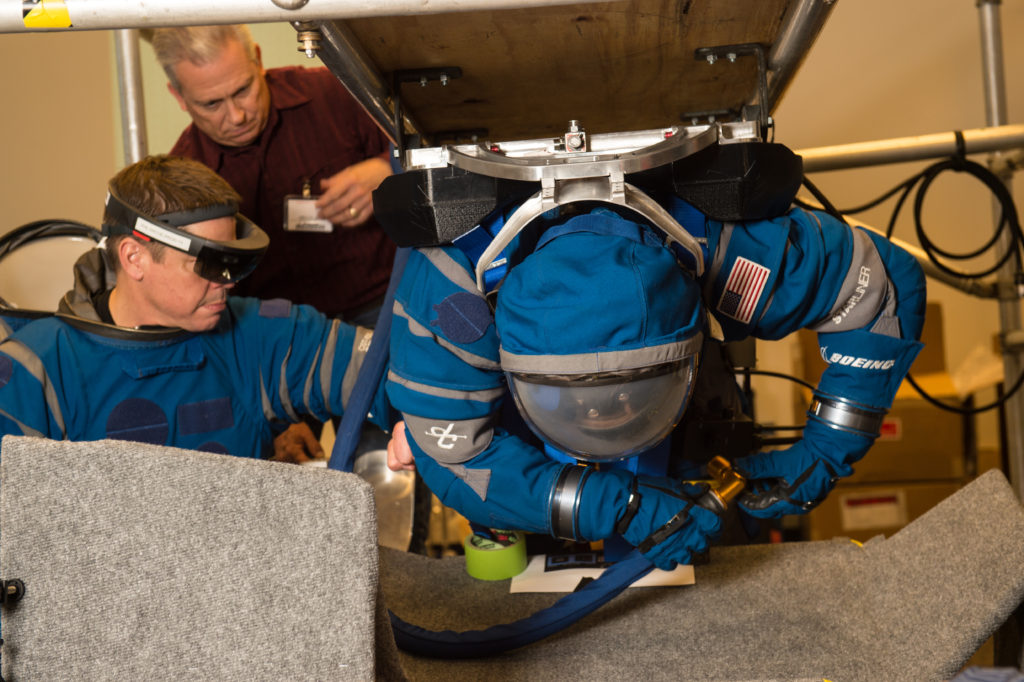 NASA's Commercial Crew Program astronauts training to fly test missions to and from the International Space Station are practicing returning to Earth from the microgravity laboratory. Recent testing at Boeing's Extended Reality Laboratory in Philadelphia combines mixed reality simulations with astronauts wearing spacesuits and augmented reality headsets, and secured in mock-up Starliner seats – the spacecraft being developed by Boeing. The testing allows astronauts to perform an exit from their seats in uncommon landing conditions. The astronauts are seated upside down so they can practice releasing their seat harness and moving to the side hatch of the Starliner without assistance. The astronauts wearing the mixed reality gear see a digital version of the interior of the Starliner as it would look in the real-life scenario while interacting with the environment around them.
In total, 30 practice runs were completed, some to familiarize the crew with the exit procedures and some additional timed runs. The Starliner is designed to land in the Western United States under parachutes and touch down on airbags located on the bottom of the spacecraft.  In the event that the capsule does not land upright, testing in extreme conditions helps prepare astronauts for any situation, including an inverted position.
Boeing already has completed a series of parachute drop tests and full-scale landing qualification tests to understand a wide range of spacecraft conditions when returning to earth. The company also has used test dummies in stand-alone seat tests and incorporated the dummies into landing drop tests to understand impacts to crew members.
Both Boeing and SpaceX have been working with the astronauts training to fly the test missions to the International Space Station. The two commercial providers have been developing unique systems to meet the goal of returning crew launches to the United States. Boeing's Starliner will launch on the United Launch Alliance Atlas V rocket from Space Launch Complex 41 at Cape Canaveral Air Force Station. SpaceX is developing the Crew Dragon, or Dragon 2, spacecraft to launch on the company's Falcon 9 rocket from Launch Complex 39A. Both companies will begin their journeys from Florida's Space Coast. Boeing plans to return on land, while SpaceX will splash down in the Atlantic Ocean. Recent SpaceX testing for return to Earth has included rescue and recovery training in the Atlantic with spacesuit-clad astronauts and personnel who will assist upon return to Earth.