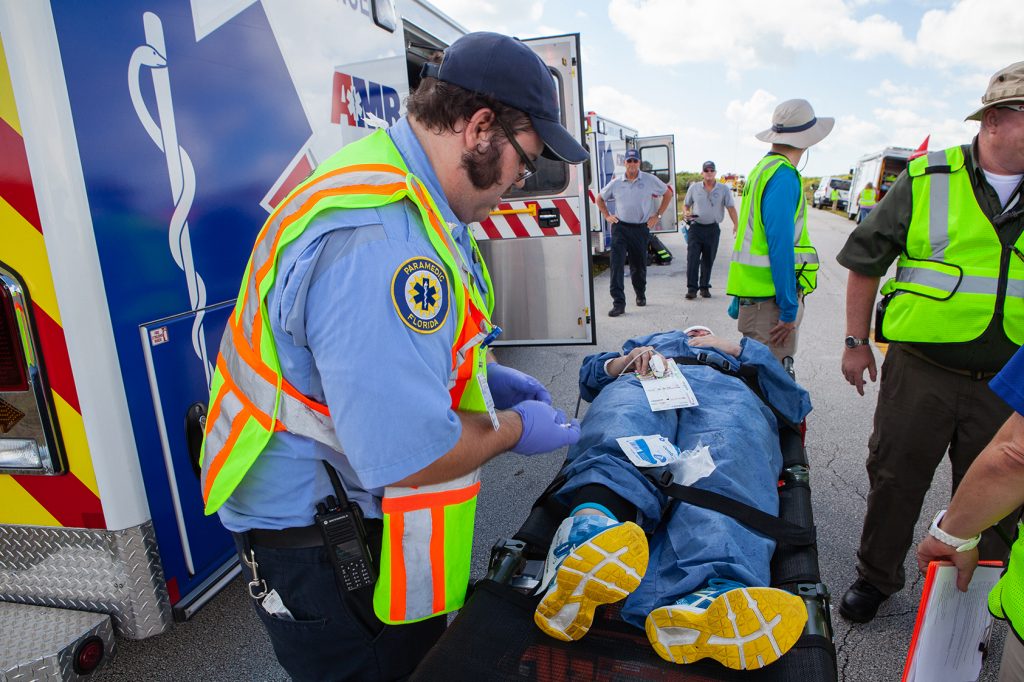 NASA led a joint emergency escape and triage simulation with Boeing and United Launch Alliance (ULA) on July 24 at Space Launch Complex 41 on Cape Canaveral Air Force Station (CCAFS) in Florida in preparation for upcoming crew flights to the International Space Station. The exercise ranged from astronauts and support teams quickly escaping the launch pad to emergency personnel practicing rescue and life support procedures focused on the safety of the launch site teams.
In the event of an emergency on launch day, astronauts and support teams would need to exit the launch pad as quickly as possible. The exercise was designed to validate the escape procedures from the crew access tower – the nearly 200-foot-tall structure astronauts will ascend to the same level as the spacecraft on top of the rocket – to a pre-staged medical location a safe distance away from the launch pad. The second half of the rehearsal included the rescue teams that would conduct initial triage for the crew and ground team.
NASA astronauts Josh Cassada, currently in training for the second flight with crew aboard Boeing's CST-100 Starliner spacecraft, and Eric Boe, along with astronaut candidate Jasmin Moghbeli, served as flight crew for the simulation.
During the exercise, the astronauts and support teams put on portable respirators and made their way to the emergency egress system – a commercial, off-the-shelf zip line modified and constructed as a safety measure for human spaceflight – for escape. The emergency system is on the same level of the crew access tower as the crew access arm, the bridge astronauts walk across to enter the Starliner. The launch teams, secured in seats, descended the tower to the pad perimeter below.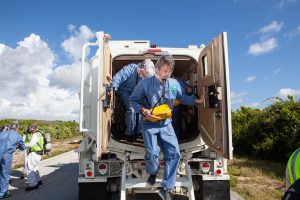 Next, using mine-resistant ambush-protected vehicles, known as MRAPs, the crew members drove just under a mile north to a helipad, where flight surgeons and the emergency medical services teams waited with ambulances and a decontamination vehicle. Astronauts evacuating from a pad emergency may come into contact with hazardous substances, such as fuel from the rocket or spacecraft, and must be decontaminated to allow medical personnel to safely treat them. In a true emergency, anyone injured would then be transported via helicopter to area hospitals.
Personnel from Kennedy Space Center emergency medical services, pad rescue teams and environmental health, along with CCAFS fire and rescue and the U.S. Air Force 45th Space Wing worked in tandem with NASA, Boeing and ULA to whisk the astronauts to safety – and, in the process, test necessary procedures and equipment, while providing new team members valuable experience.
The simulation is one of several NASA has conducted with our commercial crew partners, Boeing and SpaceX, in preparation to launch astronauts from American soil. NASA's Commercial Crew Program continues to place astronaut safety at the forefront of preparations for human spaceflight.