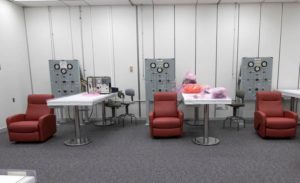 NASA's Kennedy Space Center is actively preparing for a return to human spaceflight, with Boeing and SpaceX uncrewed flight tests, followed by crew flight tests and missions.
When our astronauts arrive before their missions, they will spend eight to nine days quarantined in astronaut crew quarters. The crew quarters occupies about 26,000 square feet of the Neil Armstrong Operations and Checkout Building at Kennedy. Access is restricted to this area, which features 23 bedrooms — each with a bathroom — and the iconic suit room, where astronauts are helped into their pressure suits moments before boarding a vehicle to take them to the pad for launch.
A significant, recently completed upgrade will await the commercial crew astronauts when they arrive at Kennedy. There are new carpets and ceiling tiles, and fresh paint on the walls. Appliances all have been replaced, as has the audio/visual teleconference system in both conference rooms. The suit room, last used in an official capacity in July 2011 for STS-135, the final mission of the Space Shuttle Program, has been reactivated and remodeled. The area is furnished with new recliners and tables, and there are now three suit containment rooms — one each for Orion, Boeing and SpaceX.
Learn more about the upgrades to crew quarters here: https://go.nasa.gov/2OyFmp0