NASA and Boeing completed two different tests of the CST-100 Starliner parachute system this week at two different locations in the desert of the western United States. The tests were part of a series of parachute tests providing valuable data needed to prove the system is safe to carry astronauts to and from the International Space Station as part of NASA's Commercial Crew Program.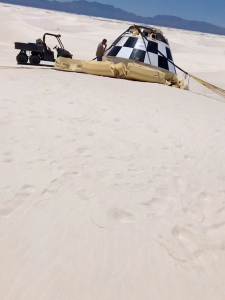 The first test, conducted June 24 at the U.S. Army's White Sands Missile Range in New Mexico, used a full-scale Starliner test article, known as a boiler plate, designed to simulate the actual spacecraft. This test featured a double failure scenario meaning one of the parachute system's two drogue parachutes and one of the three main parachutes were both intentionally disabled to test how the remaining parachutes handled the additional loads during deployment and descent.
The next test occurred June 26 using a dart-shaped test device meant to function as a Starliner weight simulant. The device was released from a C-17 aircraft above the U.S. Army's Yuma Proving Ground in Arizona.  This was a "high Q" test, meaning the parachutes were intentionally inflated at higher pressures than they are expected to see during missions.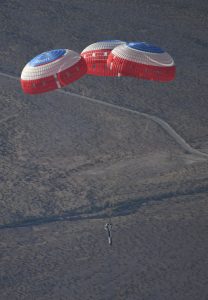 In both instances, the Starliner test articles landed safely, and the joint NASA and Boeing teams currently are reviewing the new data.
Boeing is targeting an uncrewed Orbital Flight Test to the space station this summer, which will test the full end-to-end capabilities of the system from launch to landing. The uncrewed test will be follow by its Crew Flight Test to the space station. Starliner will launch atop a United Launch Alliance Atlas V rocket from Space Launch Complex 41 at Cape Canaveral Air Force Station in Florida.
As commercial crew providers Boeing and SpaceX begin to make regular flights to the space station, NASA will continue to advance its mission to go beyond low-Earth orbit and establish a human presence on the Moon with the ultimate goal of sending astronauts to Mars.