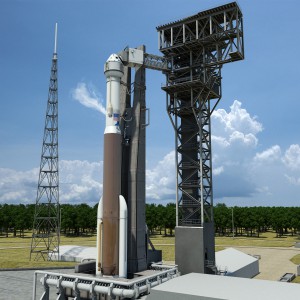 Boeing and United Launch Alliance (ULA) will mark the start of construction of the Commercial Crew access tower at Space Launch Complex 41(SLC-41) on Cape Canaveral Air Force Station, Florida at 2:30 p.m. EST Friday, Feb. 20. Media are invited to tour operations and attend the formal groundbreaking event.
Groundbreaking participants include:
John Mulholland, vice president of Boeing commercial programs
Jim Sponnick, vice president of Atlas and Delta Programs at ULA
Kathy Lueders, manager of NASA's Commercial Crew Program
Robert Cabana, director of NASA's Kennedy Space Center in Florida
Shawn Fairhurst, vice commander of the U.S. Air Force's 45th Space Wing
Jim Kuzma, chief operating officer for Space Florida
Lynda Weatherman, president and chief executive officer of the Economic Development Commission of Florida's Space Coast
The new crew access tower at SLC-41 will reach 200 feet in height and include an elevator, as well as means for quick evacuation from the structure in the event of an emergency. SLC-41 is one of the most active launch complexes on the Space Coast, so construction of this tower is scheduled to take place between launches, with segments of the structure being built off-site then assembled at the pad.
Under a Commercial Crew Transportation Capability (CCtCap) contract with NASA, Boeing's Crew Space Transportation (CST)-100 spacecraft, currently in development, will be certified by NASA's Commercial Crew Program to fly crews to and from the International Space Station. The spacecraft will launch on a ULA Atlas V rocket from SLC-41.
Read the details: http://go.nasa.gov/1zSvye1