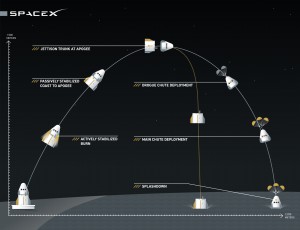 Forecasters from the U.S. Air Force 45th Weather Squadron continue to predict a 70 percent chance of favorable weather for the SpaceX Pad Abort Test. The test is planned for 9 a.m. EDT from Space Launch Complex 40 on Cape Canaveral Air Force Station in Florida. SpaceX Launch Conductor Erin Beck informed the test team that there are no weather constraints at this time.
The SpaceX pad abort test team began communications checks at about 6:40 a.m. EDT. Teams are monitoring the weather and will receive an official brief from Launch Weather Officer Mike McAleenan a little later in the countdown. The pad perimeter at Space Launch Complex 40 is now clear of all personnel.
NASA will provide updates about the test on the Commercial Crew Blog and air the test live on NASA Television. The test will see a Crew Dragon and trunk – together about 20 feet tall – fly on the power of eight SuperDraco engines. There will be no crew members aboard the spacecraft during the test, which will simulate an emergency escape from the launch pad in the unlikely case of booster failing at liftoff or other scenario that would threaten astronauts inside the spacecraft.