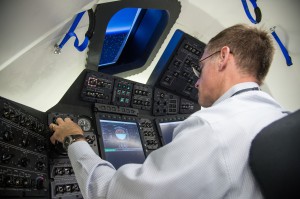 The CST-100 spacecraft Boeing is developing to take astronauts to the International Space Station will feature a crew interface system computer and displays built by Aitech Defense Systems of Chatsworth, California.  Aitech's work will allow pilots of the CST to assume direct control over the spacecraft in orbit to adjust its attitude, height and direction with precision.
Three CST-100s are to be built at Boeing's Kennedy Space Center location in preparation for a pad abort test, unpiloted flight test and piloted flight test to the station in 2017. The spacecraft will include numerous systems and subsystems built by subcontractors all over America.
NASA's Commercial Crew Program is working with Boeing and SpaceX under separate Commercial Crew Transportation Capability contracts to return crew launch capabilities to the United States. The new spacecraft also will increase research capacity on the station by adding a crew member to the orbiting laboratory and allowing scientific time available to double to 80 hours a week.