By Steven Siceloff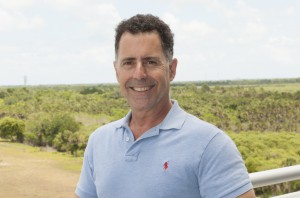 NASA's Kennedy Space Center, Fla.
Three months of seven-day work weeks including a month of 17-hour days punctuated the end of 2014 for Steven Horn. As assistant chief counsel at Kennedy, Horn worked to defend
the decisions by NASA's Commercial Crew Program to award contracts to Boeing and SpaceX under the Commercial Crew Transportation Capability phase. The effort was intense and draining, but equal parts rewarding for the lawyer who has since been named the agency's Attorney of the Year.
"This procurement was very complex, given the parallel space act agreements and phased acquisition and all," Horn said. "We have to bring the level of expertise that the engineers have down to a more readable level when making findings when they are going to be reviewed by someone who doesn't necessarily have that technical background. That can be difficult at times."
Horn's legal career began following his graduation from the University of Florida's Levin College of Law. After a couple years in private practice, Horn joined the Air Force where he worked in the Judge Advocate General department before going to Tinker Air Force Base in Oklahoma, where contracts and labor-related issues became his specialty. Having traveled the world in the Air Force, Horn opted to settle down in Florida, and came to work for NASA at Kennedy Space Center in 1998.
"Every day here is a challenge, whether it's contracts, space act agreements or how we're commercializing property that NASA has no present use for," Horn said. "The most rewarding thing for me, bar none, is the people I get to work with. There are some amazing engineers out here, I'm not just saying that. They blow me away every day. I like working with people smarter than me and there are a heck of a lot of people out here smarter than me and it motivates me to bring my game up. That's what I get a kick out of. It's that interaction with people and helping create solutions."
Horn is now the primary legal voice for Commercial Crew, beginning that role two years ago when he became a part of the source board to acquire services for the first American-made, human-rated spacecraft since the space shuttle. Then he helped judge how proposals by aerospace companies stacked up against NASA's requirements for Commercial Crew. Ultimately, the source board made the evaluations before NASA's hierarchy made the final selection of Boeing and SpaceX.
"The Source Evaluation Board chairwoman, Maria Collura, in my almost 30 years of work, is easily the best that I've ever come across," Horn said. "She was the glue that held the entire team together."
A couple weeks later, a protest lodged against the decision sent the board and Horn into justification mode. By the time it was complete, more than 160,000 pages had been gathered and reviewed. Ultimately, the Government Accountability Office agreed with NASA's rationale and approved the contract awards.
"I think the day the announcement was made to select two companies, it showed that all the work we had done for the past year and half as a team was correct," Horn said. "The day that we got the successful decision was a good day — a very good day for myself and for NASA."