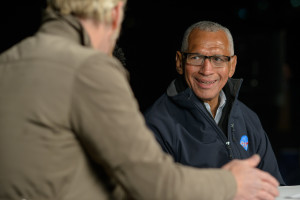 NASA Administrator Charlie Bolden, a veteran space flier, takes us inside the Astronomy Night festivities at the White House when President Obama met with the four astronauts selected to be the first to train to fly to space aboard commercial crew carriers as part of the agency's Commercial Crew Program. You can read Bolden's account of Monday's star-filled night at the White House in his blog here.
You can also read the Astronomy account of Deputy Administrator Dava Newman who attended the White House event: "Today, we are closer than ever before in human history to sending our astronauts to Mars, and it quite possibly will be one of the amazing students I met at astronomy night that will take that first step, or who will provide the logistical support, design, orbital calculations, imagination, persistence, or vision to ensure mission success."
For more of Newman's account, read her blog here.