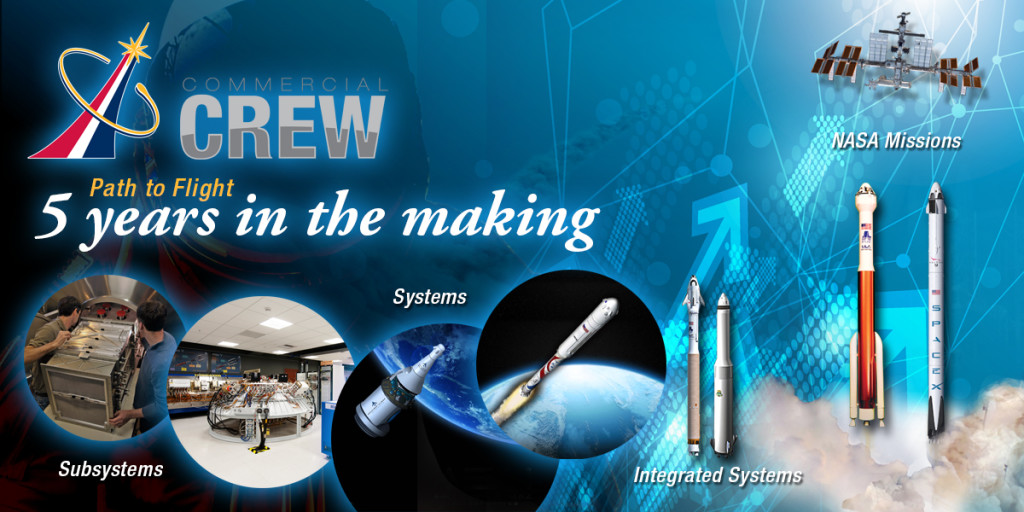 Five years in, NASA's Commercial Crew Program is at the doorstep of launch for a new generation of spacecraft and launch vehicles that will take astronauts to the International Space Station, enhance microgravity research and open the windows to the dawn of a new era in human space transportation.
The agency asked industry to take the lead in designing, building and operating a space system that would carry astronauts. NASA offered its expertise in human spaceflight and wrote out the top-level requirements for safety and other considerations to prepare for flight tests. NASA will certify the vehicles for flight tests and finally operational missions. The companies apply their own knowledge and skills in designing, manufacturing and running the systems. Ultimately, NASA will buy the flights as a service from the companies.
"It's what we hoped the program to be and honestly a lot more," said Wayne Ordway, who began as the manager of the Commercial Crew Program's Spacecraft Office and rose to the position associate program manager.
This progress was hoped for, but took tremendous work and flexibility, according to members of the early efforts to transform the fledgling vision of a close partnership between NASA and private industry into a functioning organization capable of establishing requirements for a new generation of human-rated spacecraft and then seeing to it that those requirements were met.
"This is a new way of doing business, a new era in spaceflight, and when it's all said and done, the Commercial Crew Program's legacy will be bringing human spaceflight launches back to the U.S.," said Kelvin Manning, who was involved in the early planning days of the commercial crew effort, and is now associate director of NASA's Kennedy Space Center in Florida. "That's a big deal and our teams are making it happen." Read the whole story at http://go.nasa.gov/1VVLruA