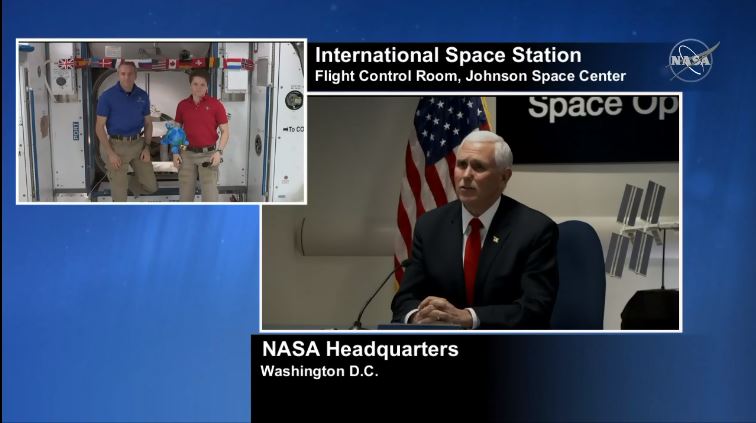 The SpaceX Crew Dragon continues to perform well more than halfway through the Demo-1 flight test. Currently docked to the International Space Station's Harmony module, the spacecraft is performing an end-to-end demonstration of its capabilities during the company's first flight with NASA's Commercial Crew Program.
Vice President Mike Pence provided a boost to the station's crew with a congratulatory call on Wednesday afternoon.
"It was inspiring to see the launch. It was even more inspiring to see the docking and to see you open that door and float into that spacecraft knowing that we'll very soon have American astronauts aboard," Pence said, adding that the Demo-1 mission is evidence of the United States' renewed commitment to leadership in space.
"Witnessing Dragon docking was a real honor; we feel very privileged to have been a part of it," NASA astronaut Anne McClain answered. "There's an intersection of practical and magical. In the back of our mind we knew how significant it was and how important it was for the whole history of spaceflight."
A SpaceX Falcon 9 rocket boosted the Crew Dragon into orbit with a brilliant predawn liftoff on Saturday, March 2, from Launch Complex 39A at NASA's Kennedy Space Center in Florida. The spacecraft caught up to the space station on Sunday, March 3, successfully docking to the orbiting laboratory at 5:51 a.m. EST. McClain, David Saint-Jacques of the Canadian Space Agency, and Russian cosmonaut and Expedition 58 commander Oleg Kononenko opened the Crew Dragon's hatch at 8:07 a.m.
Strapped into one of the spacecraft's seats is Ripley, a lifelike test device outfitted with sensors to provide important data about what humans traveling on Crew Dragon will experience. The spacecraft also ferried 400 pounds of crew supplies and equipment to the station.
The Crew Dragon hatch will be closed tomorrow afternoon at approximately 12:25 p.m. The spacecraft will remain docked to the space station until approximately 2:30 a.m. on Friday, March 8. The spacecraft is expected to return to Earth hours later, with a splashdown in the Atlantic Ocean at approximately 8:45 a.m. These milestones will be broadcast on NASA TV.
The Demo-1 mission marks a significant step toward returning to the nation the capability to launch astronauts on a U.S.-built spacecraft from U.S. soil, as well as the potential to expand the station's capability for microgravity research.