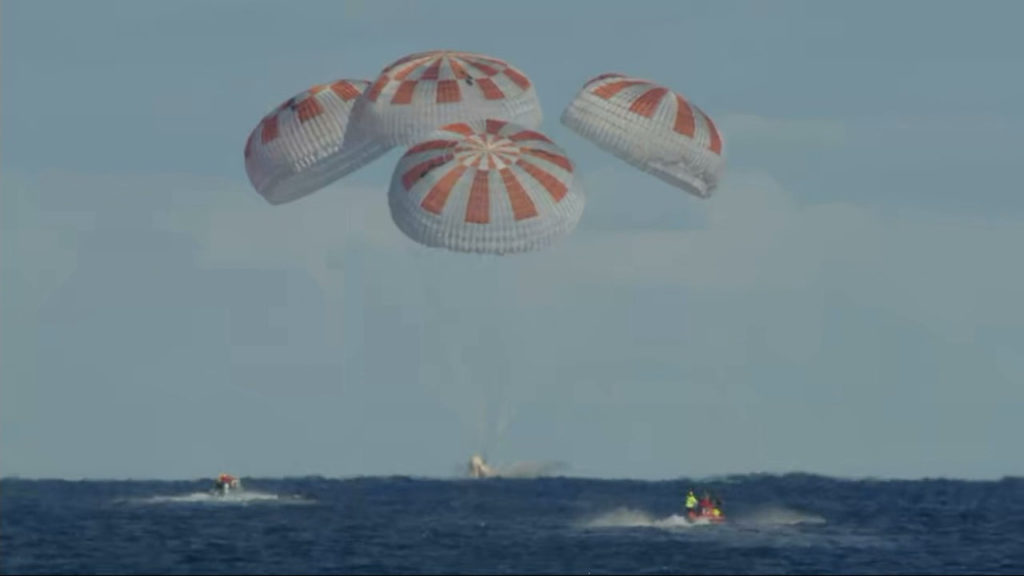 The SpaceX Crew Dragon spacecraft splashed down at 8:45 a.m. EST about 200 miles off Florida's east coast, returning from the uncrewed Demo-1 flight test to the International Space Station and the company's inaugural flight with NASA's Commercial Crew Program.
The mission, known as Demo-1, is a critical step for NASA and SpaceX to demonstrate the ability to safely fly missions with NASA astronauts to the orbital laboratory.
The Crew Dragon launched March 2 from NASA's Kennedy Space Center in Florida. It was the first commercially-built and operated American crew spacecraft and rocket to launch from American soil on a mission to the space station and autonomously dock to the station. To complete the docking, both the station and Crew Dragon's adapters used the new international docking standard.
Crew Dragon is returning to Earth some critical research samples from science investigations conducted to enable human exploration farther into space and develop and demonstrate in the U.S. ISS National Laboratory new technologies, treatments, and products for improving life on Earth.
Also traveling aboard the spacecraft is an anthropomorphic test device named Ripley outfitted with sensors to provide data about potential effects on humans traveling in Crew Dragon.
SpaceX's recovery ship, Go Searcher, is equipped with a crane to lift Crew Dragon out of the water and onto the main deck of the ship within an hour after splashdown.
NASA and SpaceX still have work to do to review the systems and flight data to validate the spacecraft's performance and prepare it to fly astronauts. Already planned upgrades, additional qualification testing, and an in-flight abort test will occur before NASA astronauts Bob Behnken and Doug Hurley will climb aboard for Demo-2, the crewed flight test to the International Space Station that is necessary to certify Crew Dragon for routine operational missions.