The Demo-2 flight crew has reported to NASA's Kennedy Space Center in Florida to start final preparations for liftoff. NASA astronauts Robert Behnken and Douglas Hurley arrived at the Launch and Landing Facility runway after departing earlier today from Ellington Field near the agency's Johnson Space Center in Houston. They're slated to lift off at 4:33 p.m. EDT on Wednesday, May 27, aboard a SpaceX Crew Dragon spacecraft carried by a Falcon 9 rocket – the first launch of American astronauts from American soil to the International Space Station in nearly a decade.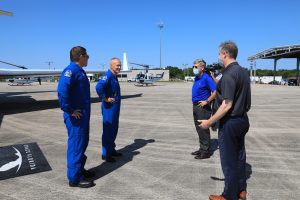 The Demo-2 mission will test the SpaceX crew transportation system from launch to docking to splashdown, paving the way for its certification for regular crew flights to the International Space Station as part of NASA's Commercial Crew Program.
Upon stepping out of the aircraft, Behnken explained how excited he and Hurley are to be the first to fly on the Crew Dragon.
"We're thankful for that opportunity," Behnken said. "We view it as an opportunity, but also, a responsibility – for the American people, for the SpaceX team, for all of NASA – who put this opportunity together and entrusted us with it."
"I happen to have been one of the four astronauts who landed here almost nine years ago in T-38s on the 4th of July in 2011 to close out the Space Shuttle Program. It's incredibly humbling to be here to start out the next [crewed] launch from the United States," Hurley said. "I also want to thank the incredible men and women of SpaceX that have put so many thousands of hours of work into this rocket and spacecraft. We're looking forward to getting up close and personal with Falcon 9 and Crew Dragon in just a few days."
NASA Administrator Jim Bridenstine and Center Director Bob Cabana greeted Behnken and Hurley as they stepped off the NASA Gulfstream aircraft at the runway's parking apron.
"This will be the fifth time in American history when we have launched American astronauts on a brand-new vehicle. We did it in Mercury, Gemini, Apollo, we did it with the space shuttles, and now we're going to do it with a SpaceX Falcon 9 rocket and Crew Dragon capsule; and it's these gentlemen that are going to have the opportunity to pioneer once more for the United States of America," Bridenstine said. Turning to the crew, he added, "You're the best that America has to offer."
Cabana recalled the last time astronauts arrived to prepare for launch from Kennedy – the STS-135 crew, including Hurley, who piloted space shuttle Atlantis on the program's final flight.
"It's been almost nine years since July 4, 2011. That's the last time a crew flew into the landing facility on their way to space," Cabana said. "I can't tell you how great it is to welcome Bob and Doug here for this historic mission."
Tomorrow, NASA and SpaceX managers will conduct a flight readiness review at Kennedy to determine whether the Crew Dragon and its systems are ready for the mission. A news conference will follow at approximately 6 p.m., or one hour after the review concludes. Watch it live on NASA Television or on the web at https://www.nasa.gov/live.