NASA's SpaceX Demo-2 mission will be the company's first flight carrying a crew, but it's the second flight of the Crew Dragon spacecraft to the International Space Station.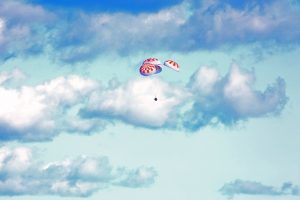 In March 2019, the SpaceX Demo-1 mission was the spacecraft's first flight test. During that uncrewed mission, the fully autonomous Crew Dragon launched aboard a Falcon 9 rocket, rendezvoused and docked with the orbiting laboratory, undocked several days later and returned to Earth with a splashdown in the Atlantic Ocean off the Florida coast.
Demo-2 raises the stakes, taking Demo-1 a critical step further with the addition of a crew: veteran astronauts Robert Behnken and Douglas Hurley.
This mission will serve as an end-to-end flight test to validate the SpaceX crew transportation system, from launch to docking to splashdown. It is the final flight test for the system to be certified for regular, crewed flights to the station as part of NASA's Commercial Crew Program.