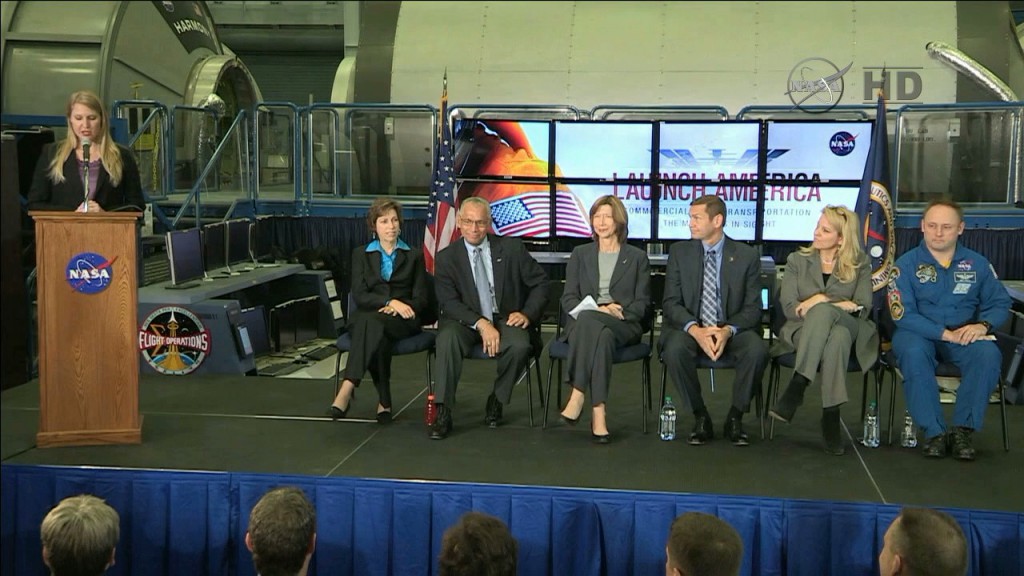 By Steven Siceloff,
NASA's Kennedy Space Center, Fla.
Spacecraft systems testing followed by increasingly complex flight tests and ultimately astronauts flying orbital flights will pave the way during the next few years to operational missions to the International Space Station that will deliver crews on American vehicles launching from American soil for the first time since 2011.
That is the path forward laid out Monday as two companies and teams of engineers work toward building safe, reliable and cost-effective spacecraft and systems that will take astronauts to the station from American launch complexes.
Boeing's schedule calls for a pad abort test in February 2017, followed by an uncrewed flight test in April 2017, then a flight with a Boeing test pilot and a NASA astronaut in July 2017.
SpaceX anticipates a pad abort test later this spring as part of the previous development phase, then an uncrewed flight test in late 2016 and a flight test with crew in early 2017.
Speaking for the first time since the awarding of the final development and certification contracts, officials from NASA's Commercial Crew Program, Boeing and SpaceX revealed some of the details of their plans to cross the chasm from spacecraft and launch system design to flight tests, certification and operational missions to the station.
"It's an incredible testament to American ingenuity and know-how, and an extraordinary validation of the vision we laid out just a few years ago as we prepared for the long-planned retirement of the space shuttle," said Charlie Bolden, NASA administrator. "This work is part of a vital strategy to equip our nation with the technologies for the future and inspire a new generation of explorers to take the next giant leap for America."
Boeing and SpaceX were selected in September 2014 to finalize their respective CST-100 and Crew Dragon spacecraft along with the rockets that will lift them into orbit and all of the ground and mission operations networks essential for safe flights. Both companies have worked with the Commercial Crew Program throughout multiple development phases, continuing to advance their designs before being chosen to complete their systems, reach certification and then fly astronauts to the station.
The goal of NASA's effort is to provide an American launch vehicle and spacecraft capable of safely carrying astronauts to the station. Unlike other NASA spacecraft, though, this new generation of human-rated vehicles will be designed, built, operated and owned by the companies themselves, not NASA. NASA will buy space transportation services from the companies for astronauts and powered cargo just as the agency does already with the Commercial Resupply Services initiative that uses privately developed and operated rockets and spacecraft to deliver critical cargo to the station.