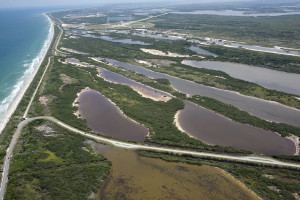 Blue Origin set the stage today at Cape Canaveral Air Force Station for assembling and flying its rockets and spacecraft from Florida's Space Coast and we could not be more thrilled to have them as neighbors!
Blue Origin and NASA's Commercial Crew Program began working together on the company's booster and spacecraft systems in 2010 when NASA selected Blue Origin as one of five companies funded for early developmental work on their own projects under Space Act Agreements.
That first partnership with Blue Origin covered design work on a pusher-style launch abort system and composite pressure vessel for the company's spacecraft. A second round of agreements continued development of both the launch abort system and spacecraft, along with developing a propellant tank and the hydrogen- and oxygen-fueled BE-3 engine. Blue Origin's newest engine, known as the BE-4, will power the company's reusable boosters as they loft spacecraft on orbital flights on a variety of missions.
Taken together with continuing advances by NASA's other commercial crew partners including Boeing, SpaceX and Sierra Nevada Corporation, a new generation of American-made systems is on the verge of opening space travel to more people than ever before!