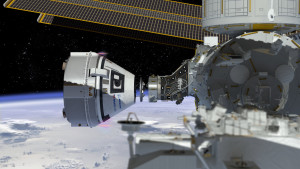 NASA's Commercial Crew Program placed an order for the second operational mission to carry astronauts to the International Space Station aboard Boeing's CST-100 Starliner spacecraft. The order means that seven vehicles are now in different levels of planning for Commercial Crew flight tests and operational missions by Boeing and by SpaceX, which also is developing the Crew Dragon spacecraft for human-rated missions to the space station. The seven missions in process are:
2 uncrewed flight tests, one for each company,
2 crewed flight tests, one each,
3 operational missions ordered to date.
The order was placed now because of the long lead time to build a spacecraft, test it and process it for launch.
"Once certified by NASA, the Boeing CST-100 Starliner and SpaceX Crew Dragon each will be capable of at least two crew launches to the station per year," said Kathy Lueders, manager of NASA's Commercial Crew Program. "Placing orders for those missions now really sets us up for a sustainable future aboard the International Space Station."
This is the third in a series of four guaranteed orders NASA will make under the Commercial Crew Transportation Capability contracts known as CCtCap. Boeing and SpaceX received their first orders in May and November, respectively, and have started planning for, building and procuring the necessary hardware and assets to carry out their first missions for the agency. NASA will identify at a later time which company will fly a mission to the station first. There are many more details to this story and you can read them at http://go.nasa.gov/1IZhxSH