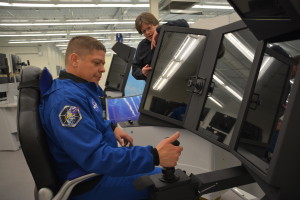 Commercial Crew astronauts Bob Behken and Eric Boe sat at the simulated controls of Boeing's CST-100 Starliner recently as they evaluated sophisticated systems designed to train astronauts and mission controllers prior missions to the International Space Station. Behknen and Boe are two of four NASA astronauts, including Doug Hurley and Suni Williams selected to work closely with Boeing and SpaceX as the companies finalize their systems. Crews have not been assigned to specific missions or spacecraft, so the team is cross-training and aiding in development of both.
The simulators were built at Boeing's St. Louis facility and will be installed at NASA's Johnson Space Center in Houston for training by astronauts and mission controllers. The simulators are extremely advanced and able to replicate numerous mission phases and flight conditions in order to prep crews how to handle the circumstances correctly. Traditionally, astronauts rely heavily on simulator training.
"We have been learning about the spacecraft displays through slideshows," Boe said. "It's great to finally see what we are actually going to train on. The trainers look great, and this visit gives us an opportunity to meet with the Boeing engineers. We appreciate them allowing us to give input on these trainers so the devices are ready when they arrive at Johnson Space Center."
Behnken added that the training equipment is comprehensive.
"Historically, some trainers were just a simple component that might have a very specific task," he said. "This one has a lot of capability with multiple tasks coming together so it can execute more complicated training scenarios."
You can read more details about the trainers from Boeing at http://go.nasa.gov/1JwRthW