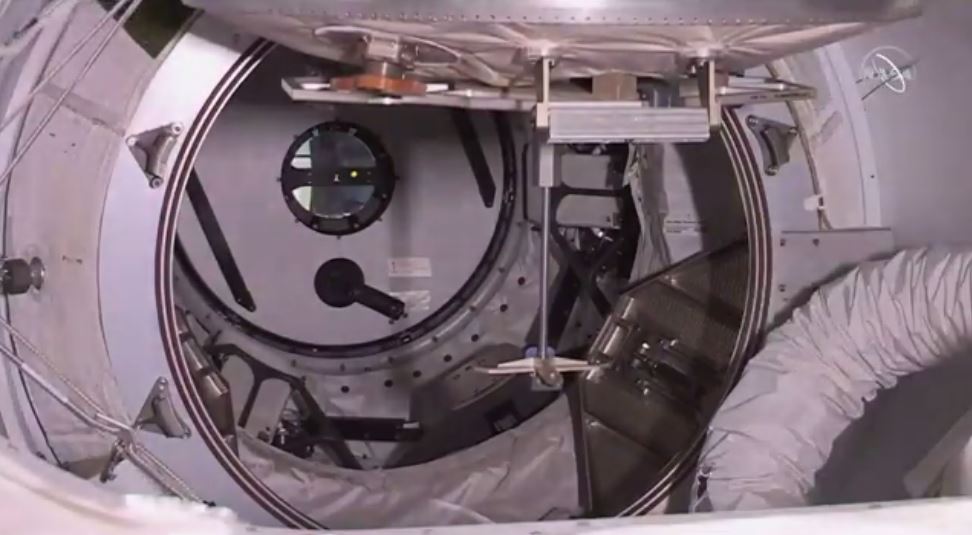 At 12:39 p.m. ET, the Expedition 58 crew aboard the International Space Station closed the hatch between the SpaceX Crew Dragon and the orbital laboratory.
NASA astronaut Anne McClain, David Saint-Jacques of the Canadian Space Agency, and Russian cosmonaut and Expedition 58 commander Oleg Kononenko, gathered briefly inside the Crew Dragon to pose for a round of photos before exiting the spacecraft.
"Dragon hatch closed, 17:39 GMT," Saint-Jacques reported to the team in the space station flight control room at the agency's Johnson Space Center in Houston, giving the time in Greenwich Mean Time.
The Crew Dragon's splashdown in the Atlantic Ocean will complete its five-day uncrewed Demo-1 mission dedicated to testing the company's end-to-end system designed to return human launches to the International Space Station from the United States as part of NASA's Commercial Crew Program. On board for the spacecraft's return is a lifelike, anthropomorphic test device named Ripley, outfitted with sensors to provide data about potential effects on humans traveling in Crew Dragon for critical phases like ascent, entry and landing.
Coverage of the Crew Dragon undocking will begin on NASA Television and the agency's website at 2 a.m. Friday, March 8, with physical separation of the spacecraft expected at about 2:31 a.m.
Live coverage from SpaceX mission control in Hawthorne and NASA mission control at Johnson Space Center in Houston will resume at 7:30 a.m. for the spacecraft's deorbit burn scheduled at 7:50 a.m. and continue through Crew Dragon's anticipated splashdown in the Atlantic Ocean at 8:45 a.m.
More details about the mission and NASA's commercial crew program can be found in the press kit online and by following the commercial crew blog, @commercial_crew and commercial crew on Facebook.
Learn more about station activities by following @space_station and @ISS_Research on Twitter as well as the ISS Facebook and ISS Instagram accounts.