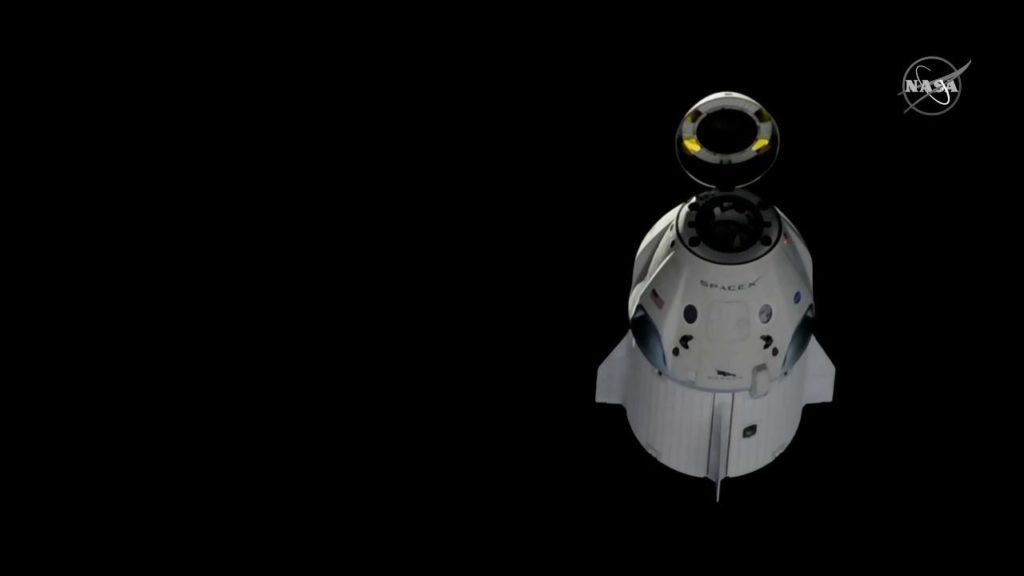 The uncrewed SpaceX Crew Dragon soon will start its return to Earth. Deorbit burn—a 15-minute, 25-second firing of the spacecraft's thrusters that will slow the vehicle and begin its descent—is planned to begin at approximately 7:52 a.m. EST. Splashdown in the Atlantic Ocean is expected at about 8:45 a.m. EST.
Earlier this morning, the Crew Dragon departed from the International Space Station, undocking at 2:32 a.m. EST and performing a series of departure burns to move away from the orbiting laboratory, where it spent the past five days. At about 7:48 a.m., Crew Dragon will separate from its trunk containing its solar array and radiator. Its nosecone will close after the deorbit burn prior to atmospheric entry.
The Expedition 58 crew aboard the station, NASA astronaut Anne McClain, David Saint-Jacques of the Canadian Space Agency, and Russian cosmonaut and Expedition 58 commander Oleg Kononenko, loaded about 300 pounds of hardware and science aboard Crew Dragon before closing the hatch Thursday. The spacecraft also is carrying a lifelike test device, Ripley, which is gathering data about what astronauts flying aboard Crew Dragon will experience.
Known as Demo-1, SpaceX's inaugural mission with NASA's Commercial Crew Program is an important end-to-end flight test of the new system's capabilities.