Like so many other facilities at the Florida spaceport, the suit room where NASA astronauts Douglas Hurley and Robert Behnken currently are putting on their spacesuits is awash in history.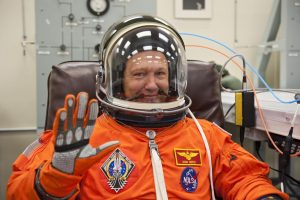 The room is part of the Astronaut Crew Quarters, which occupies about 26,000 square feet of Kennedy's Neil Armstrong Operations and Checkout Building. The crew quarters features 23 bedrooms — each with a bathroom — and the suit room, where Apollo and shuttle crews suited up for flight.
Before today, the last crew to suit up in this room was the STS-135 crew, which included Hurley, the mission's pilot, in July 2011.