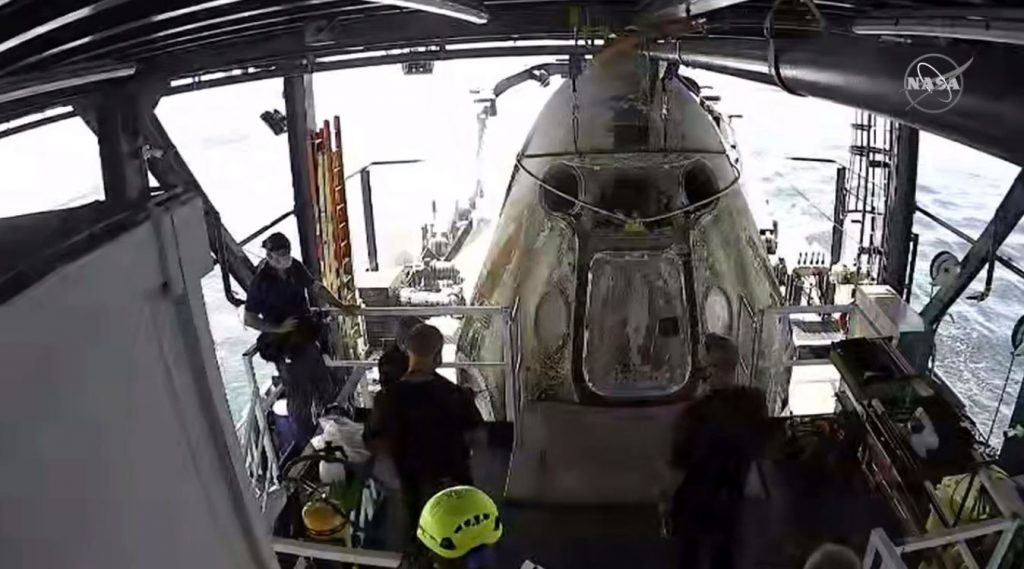 NASA astronaut Doug Hurley reported to SpaceX that he and crewmate Bob Behnken are doing fine inside the Crew Dragon "Endeavour," which is now on the deck of the company's recovery vessel, "GO Navigator."
"We're good; keep doing what you're doing," Hurley said.
Recovery teams are continuing a purge of the spacecraft's service section in order to bring trace readings of remaining hypergol vapors all the way down to zero prior to opening the side hatch. The service section is located between the pressure vessel – the cabin in which Behnken and Hurley are patiently waiting – and the outer surface of the spacecraft.
Behnken and Hurley splashed down safely in the SpaceX Crew Dragon "Endeavour" in the Gulf of Mexico off the coast of Pensacola, Florida, at 2:48 p.m. EDT, bringing to an end the NASA SpaceX Demo-2 mission to the International Space Station.