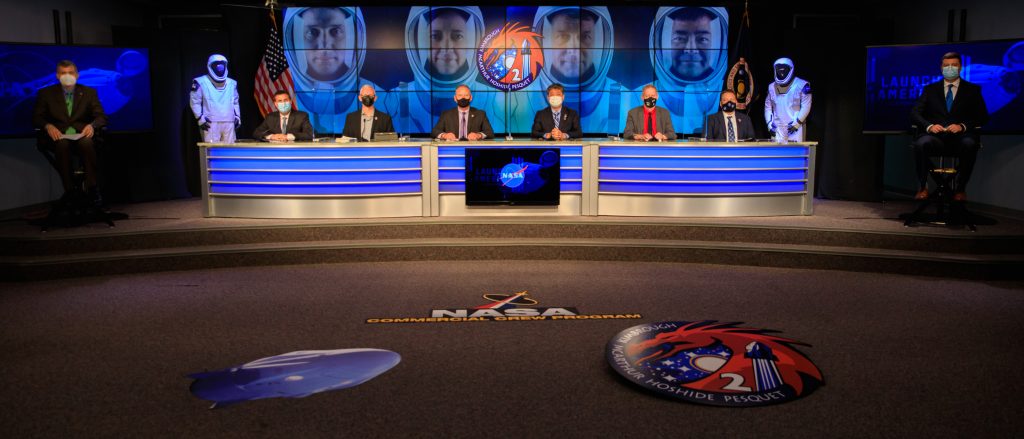 During a prelaunch news conference earlier this morning, Wednesday, April 20, mission managers with NASA and SpaceX have confirmed they are proceeding toward April 22 at 6:11 a.m. EDT for the Crew-2 mission that will launch from the agency's Kennedy Space Center in Florida to the International Space Station.
"We're 'go' for launch," said Steve Stich, manager of the Commercial Crew Program at Kennedy Space Center. "Both Thursday and Friday launch weather looks good, with concern of winds around the pad for Thursday. Downrange weather is trickier as the front and the winds combine to create winds and waves. Friday looks better than Thursday, but we'll continue to watch; we have another briefing tomorrow and will decide when the right time to make a decision is."
Crew-2 mission astronauts Shane Kimbrough and Megan McArthur of NASA, along with JAXA (Japan Aerospace Exploration Agency) astronaut Akihiko Hoshide, and ESA (European Space Agency) astronaut Thomas Pesquet will head to the space station for a six-month science mission in the Crew Dragon spacecraft, which will launch on the SpaceX Falcon 9 rocket from Launch Complex 39A.
"I'm honored to be here, excited to fly crew again, and to do it so quickly," said Benji Reed, senior director of Human Spaceflight Programs at SpaceX. "In less than a year, we will have flown as many people in this NASA partnership than were flown with the Mercury program. Thanks to our partners NASA, ESA, JAXA, and the families who trust us with their family members."
Crew-2 is the second crew rotation flight of a U.S. commercial spacecraft with astronauts to the space station and the first carrying two international crew members.
"It's an exciting time. The crew is doing fine. They're getting ready for launch," said Norm Knight, deputy manager for Flight Operations at Johnson Space Center. "These reviews have been very thorough. Safety is number one. We're looking forward to a very successful mission."
The U.S. Space Force 45th Weather Squadron predicts an 80% chance of favorable weather conditions for lift off at the launch pad of the Falcon 9 rocket and Crew Dragon based on Falcon 9 Crew Dragon launch weather criteria. The primary weather concerns for the launch area will be liftoff winds. Teams also are monitoring weather conditions downrange for the flight of Crew Dragon.
On Wednesday, April 21, acting NASA Administrator Steve Jurczyk will participate in a briefing at the Countdown Clock at Kennedy Space Center's News Center at 8:30 a.m. along with the following participants:
Bob Cabana, Kennedy center director
Hiroshi Sasaki, vice president and director general, JAXA's Human Spaceflight Technology Directorate
Frank de Winne, manager, International Space Station Program, ESA
NASA astronaut, Jasmin Moghbeli
NASA TV coverage of Crew-2 launch preparations and liftoff will begin at 2 a.m. Thursday, April 22. The Crew Dragon is scheduled to dock to the space station Friday, April 23, at approximately 5:30 a.m.
Follow along with launch activities and get more information about the mission at: http://www.nasa.gov/crew-2. Learn more about commercial crew and space station activities by following: @Commercial_Crew, @space_station, and @ISS_Research on Twitter as well as the Commercial Crew Facebook, ISS Facebook and ISS Instagram accounts.