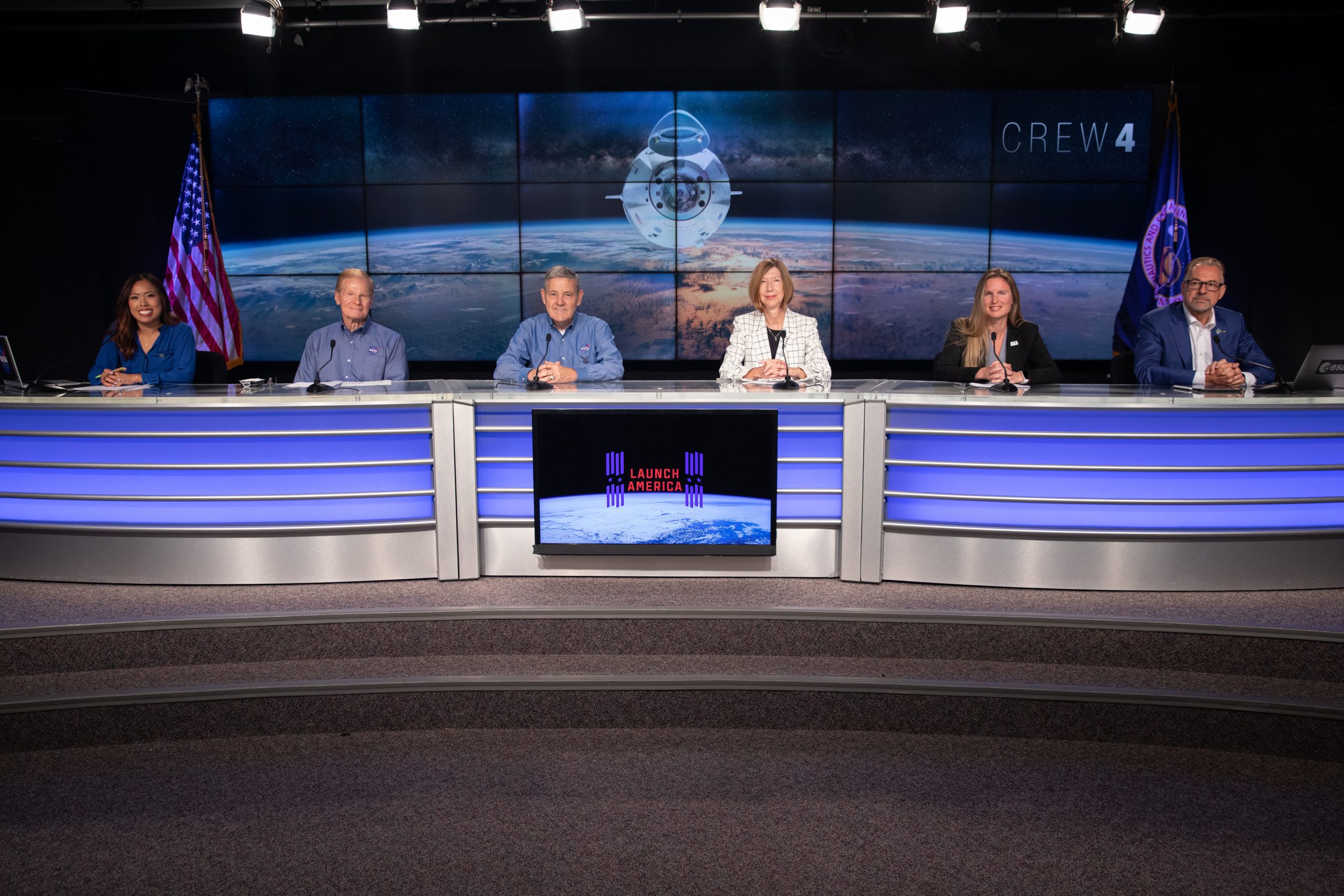 Earlier on Tuesday, April 26, NASA Administrator Bill Nelson and senior NASA leadership addressed members of the media during a briefing held at the agency's Kennedy Space Center in Florida for NASA's SpaceX Crew-4 mission, now less than a day away.
"Flying safely with crew means that you've got to do it one step at a time," said Kathryn Lueders, associate administrator, Space Operations Mission Directorate, NASA Headquarters. "So, tomorrow morning, we're hoping that you'll get to see a really, really beautiful step, and we'll get our crew safely to orbit."
Crew-4 is the fourth crew rotation flight of a U.S. commercial spacecraft under the agency's Commercial Crew Program. The mission will send NASA astronauts Kjell Lindgren, Robert Hines, and Jessica Watkins, and ESA (European Space Agency) astronaut Samantha Cristoforetti to the International Space Station for a rotation science expedition, living and working as part of what is expected to be a 7-member crew.
Lindgren and Hines were assigned to the Crew-4 mission in February 2021 and began working and training on SpaceX's next-generation human spacecraft and for their stay aboard the space station. Cristoforetti was assigned to the mission in March 2021 and Watkins was added as the fourth crew member in November 2021.
The Crew-4 mission continues NASA's efforts to restore and maintain American leadership in human spaceflight. Regular commercial crew rotation missions enable NASA to continue the important research and technology investigations taking place aboard the station. Such research benefits people on Earth and lays the groundwork for future exploration beyond low-Earth orbit, starting with the agency's Artemis missions, which includes landing the first woman and person of color on the lunar surface.
The SpaceX Falcon 9 rocket and Crew Dragon spacecraft, which the crew has named Freedom, are scheduled to lift off at 3:52 a.m. EDT on Wednesday, April 27. Just over 17 hours after launch, the crew is expected to arrive at the orbiting laboratory. Docking is planned for approximately 8:15 p.m. EDT on Wednesday, April 27.
Weather officials with the U.S. Space Force's 45th Weather Squadron are predicting an 90% chance of favorable weather conditions for launch – this is derived from Falcon 9 Crew Dragon launch weather criteria. The primary weather concerns are cumulus cloud and flight through precipitation rules.
For more than 21 years, humans have continuously lived and worked aboard the International Space Station, advancing scientific knowledge and demonstrating new technologies that enable us to prepare for human exploration to the Moon and Mars. The station's design requires humans living aboard to maintain it, operate it, and upgrade it; thus, International Space Station operations, including commercial resupply and commercial crew, are essential to the mission.
Live coverage of launch preparations and liftoff will begin at 12 a.m. EDT on Wednesday, April 27, on NASA Television, the NASA app, and the agency's website.
Read more on the Crew-4 mission blog.