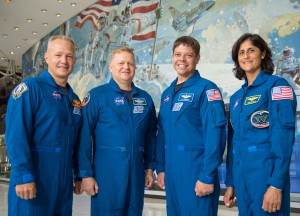 NASA's Commercial Crew Program has contracted with American aerospace industry partners Boeing and SpaceX to return the capability to launch astronauts to the International Space Station (ISS) from American soil. This exciting program allows NASA to focus on deep-space exploration, while stimulating a growing spaceflight economy to low-Earth orbit.
Now is your chance to ask Bob Behnken and Sunita "Suni" Williams about their selection to be among the first astronauts to train for commercial crew test flights! They are three months into their commercial crew assignments, and will answers questions live on NASA TV on Monday at 12:30 p.m. EDT. To participate, submit your questions in the comments below, tweet us @Commercial_Crew with #askNASA or post to our Facebook page with #askNASA. We'll take questions in advance and live during the show.
A new generation of human-rated American spacecraft is in development under the Commercial Crew Program that will operate safe, reliable and cost-effective transportation to the space station. Instead of NASA designing and operating a new spacecraft, rocket and all the ground support equipment required for successful human space transportation system, the agency offered the aerospace industry a chance to apply its own innovations while still meeting NASA's requirements.
Boeing's CST-100 Starliner spacecraft will launch on a United Launch Alliance Atlas V, and SpaceX's Crew Dragon spacecraft will launch on the company's Falcon 9 rocket. These systems will send astronauts to the station where they can perform more of the research that is making life better on Earth, and preparing future astronauts for missions to an asteroid, Mars and beyond.
We hope you join us Monday to find out if Bob and Suni answer your question.