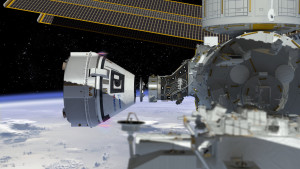 Work taking place in Sacramento, California, and Redmond, Washington, will offer a critical boost to Boeing's CST-100 Starliner spacecraft as it heads to the International Space Station thanks to Aerojet Rocketdyne, which is producing the propulsion system for the Starliner's service module and maneuvering jets. The main thrusters and system assembly originate in Sacramento, while the steering thrusters on the capsule are manufactured in Redmond.
In the words of Aerojet Rocketdyne, "The Starliner service module propulsion system provides integrated launch abort capability on the pad and during ascent along with all propulsion needs during a nominal flight—from launch vehicle separation, docking and undocking from the ISS, and through separation of the crew and service modules when the spacecraft begins to re-enter the Earth's atmosphere."
The thrusters also are crucial to the Starliner's abort system that would ignite in the unlikely event of a launch pad emergency or during the climb into orbit. Each service module will include four 40,000-pound thrusters designed to push the spacecraft and its crew out of harm's way. They'll be integrated into the Starliner's service module inside Boeing's Commercial Crew and Cargo Processing Facility at NASA's Kennedy Space Center in Florida prior to an uncrewed and then crew flight test to the space station. Read more here.