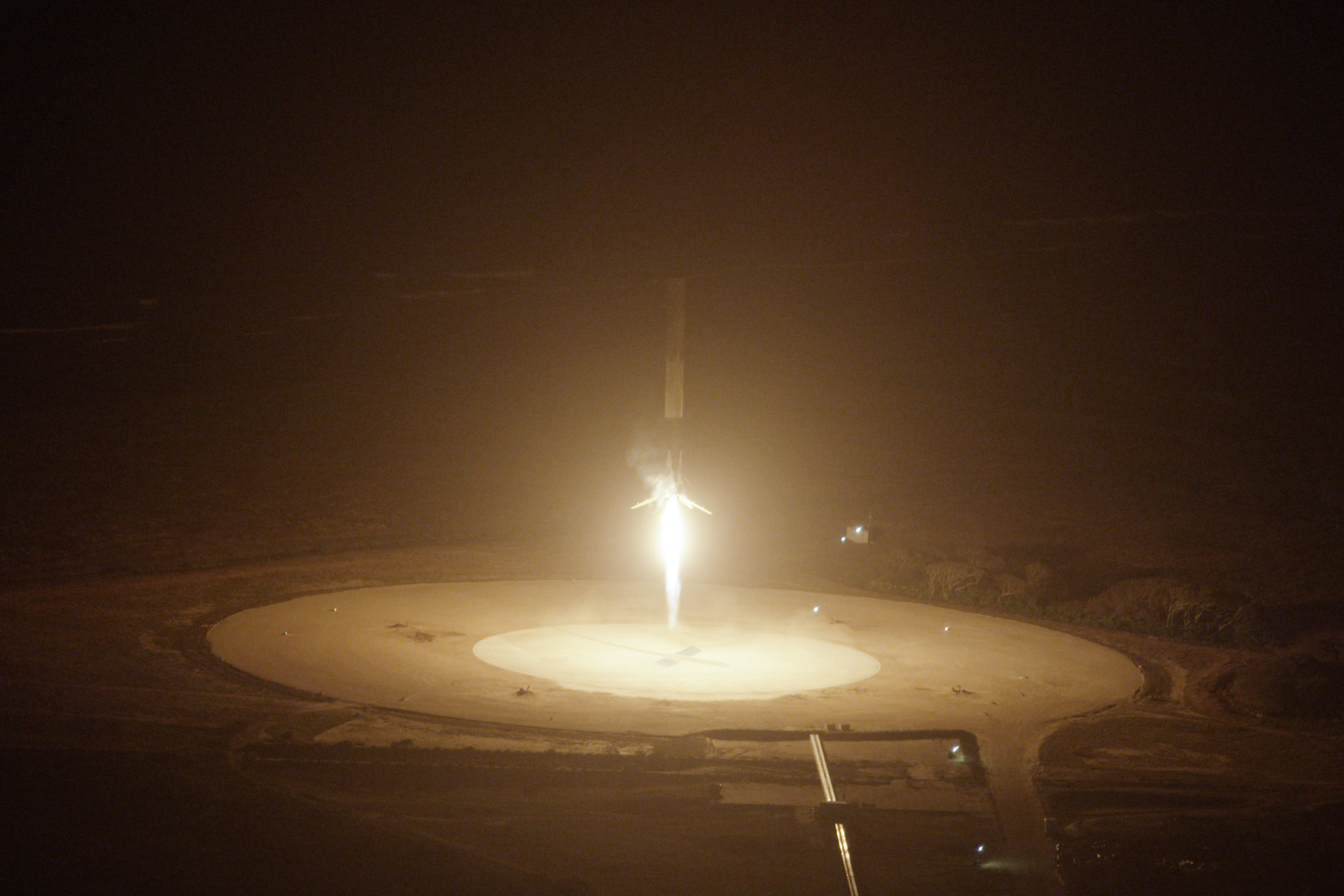 SpaceX accomplished a major feat Monday night when a Falcon 9 rocket's first stage returned from space and landed safely on a concrete pad six miles away from where it lifted off minutes before. While the first stage returned to Earth, the second stage of the upgraded Falcon 9 executed the main mission of the flight by delivering 11 ORBCOMM satellites to orbit.
Lifting off from Space Launch Complex 40 at Cape Canaveral Air Force Station at 8:29 p.m. EST, the Falcon 9 sped toward space on the power of its nine Merlin 1D engines. Four minutes into the flight, the first stage separated as planned and the second stage took over, lighting a single Merlin engine and pushing the stack of ORBCOMM satellites faster and higher. Meanwhile, the first stage ignited several of its engines again to head back to Earth. Moving back at supersonic speeds that sent a sonic boom across Florida's Space Coast, the first stage engines ignited to slow the booster down as it neared Landing Complex-1. A bright orange trail marked the boosters descent before its four landing legs unfolded and the booster set itself down.
The achievement may mark a turning point in reusability for launch vehicles, which are traditionally not recovered following the delivery of a payload to orbit. NASA's space shuttle fleet was an exception to that — the orbiters flew multiple times on the same engines and using solid rocket boosters that were recovered and reflown.
SpaceX is working with NASA's Commercial Crew Program as it develops the Crew Dragon spacecraft for launch on a Falcon 9 to carry astronauts to the International Space Station starting in 2017. Photo and video by SpaceX.