Teams from NASA and SpaceX practiced removing astronauts from a Crew Dragon spacecraft on Tuesday, Aug. 13, at Port Canaveral in Florida, preparing for when humans return to Earth from a mission to the International Space Station as part of NASA's Commercial Crew Program.
The joint simulation involved a mock-up of the spacecraft and Go Searcher, one of the SpaceX ships that will recover the spacecraft and astronauts after splashing down in the Atlantic Ocean. NASA astronauts Doug Hurley and Bob Behnken, who will fly to and from the space station aboard Crew Dragon for the SpaceX Demo-2 mission, participated in the exercise.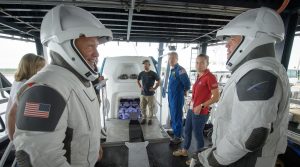 "Integrated tests like today's are a crucial element in preparing for human spaceflight missions," Hurley said. "This opportunity allowed us to work with the recovery team and ensure the plans are solid for the Demo-2 mission."
The event marked the first time a fully integrated NASA and SpaceX team worked together on the ship to go through an end-to-end practice run of how the teams will recover and extract the astronauts when they return from the space station in Crew Dragon. Hurley and Behnken were taken out of the spacecraft, given a mock medical evaluation and then transported to the Cape Canaveral Air Force Station Skid Strip, or airport.
"We're making sure that the team integrates together — that's a key to any successful mission," said Ted Mosteller, the NASA recovery director in charge of the agency's team for the Commercial Crew Program. "We worked on successfully doing what we need to do to take care of the crew once they return to Earth."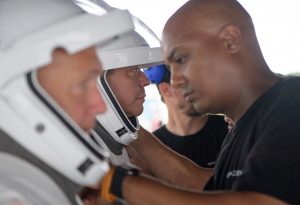 The purpose of the exercise, Mosteller pointed out, was to ensure participants knew their roles and responsibilities — and where they were supposed to be staged on the 150-foot vessel. He was extremely pleased with the results.
"It feels really good; it has been a lot of hard work to get us to this point," Mosteller said. "There was a lot of collaboration, and it was a very positive experience for the integrated team."
For Hurley and Behnken, it's another milestone on the path to their historic flight.
"We are both looking forward to the Demo-2 flight and having the opportunity to return to the International Space Station," Behnken said. "Each of these exercises puts us one step closer to fulfilling NASA's mission of returning astronauts to the International Space Station from U.S. soil."
As commercial crew providers Boeing and SpaceX begin to make regular flights to the space station, NASA will continue to advance its mission to go beyond low-Earth orbit and establish a human presence on the Moon with the ultimate goal of sending astronauts to Mars.