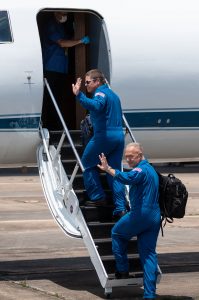 The NASA astronauts who will become the first Americans to launch to the International Space Station from American soil in nearly a decade are on their way to the agency's Kennedy Space Center in Florida. Demo-2 crew members Robert Behnken and Douglas Hurley are expected to arrive at the Launch and Landing Facility runway at the spaceport today around 4 p.m. EDT.
NASA Administrator Jim Bridenstine and Center Director Bob Cabana will be at the runway to welcome the astronauts. A media Q&A will follow at the runway. These events will be broadcast live on NASA Television and online at www.nasa.gov/live.
Liftoff of the SpaceX Falcon 9 rocket carrying the Crew Dragon spacecraft is targeted for Wednesday, May 27, at 4:33 p.m. EDT from Kennedy's historic Launch Complex 39A. The Demo-2 mission will serve as an end-to-end flight test to validate the SpaceX crew transportation system, paving the way for its certification for regular crew flights to the station as part of NASA's Commercial Crew Program.