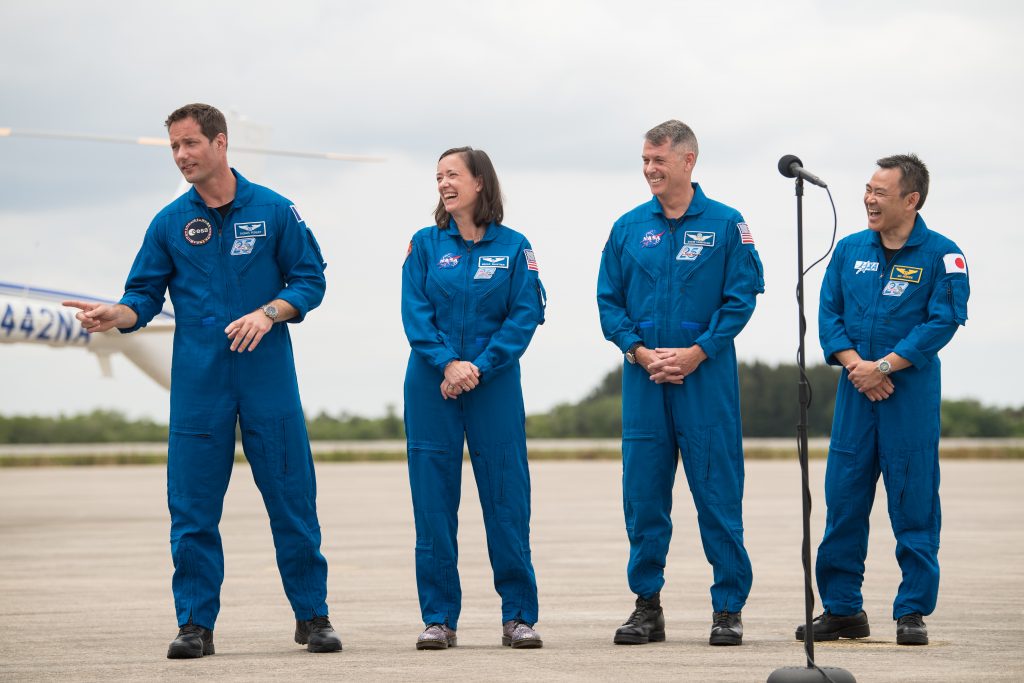 The astronauts that will soon launch to the International Space Station as part of NASA's SpaceX Crew-2 mission arrived today, April 16, at the agency's Kennedy Space Center in Florida to start final preparations for liftoff.
Crew-2 mission astronauts Shane Kimbrough and Megan McArthur of NASA, along with JAXA (Japan Aerospace Exploration Agency) astronaut Akihiko Hoshide, and ESA (European Space Agency) astronaut Thomas Pesquet, landed via Gulfstream jet aircraft at the Launch and Landing Facility at Kennedy after departing earlier today from Ellington Field near the agency's Johnson Space Center in Houston.
The astronauts were greeted by leaders from NASA, JAXA, and ESA. A media event began shortly after arrival with the following participants:
Steve Jurczyk, acting NASA administrator
Bob Cabana, center director, Kennedy
Junichi Sakai, manager, International Space Station Program, JAXA
Frank de Winne, manager, International Space Station Program, ESA
NASA astronaut Shane Kimbrough, spacecraft commander
NASA astronaut Megan McArthur, pilot
JAXA astronaut Akihiko Hoshide, mission specialist
ESA astronaut Thomas Pesquet, mission specialist
The astronauts are scheduled to lift off at 6:11 a.m. EDT Thursday, April 22, aboard a SpaceX Crew Dragon spacecraft carried by a Falcon 9 rocket for a six-month science mission to the space station as part of NASA's Commercial Crew Program.
This is the second crew rotation flight of the SpaceX Crew Dragon and the first with two international partners. More details about the mission and NASA's Commercial Crew Program can be found in the press kit online and by following the commercial crew blog, @commercial_crew and commercial crew on Facebook.