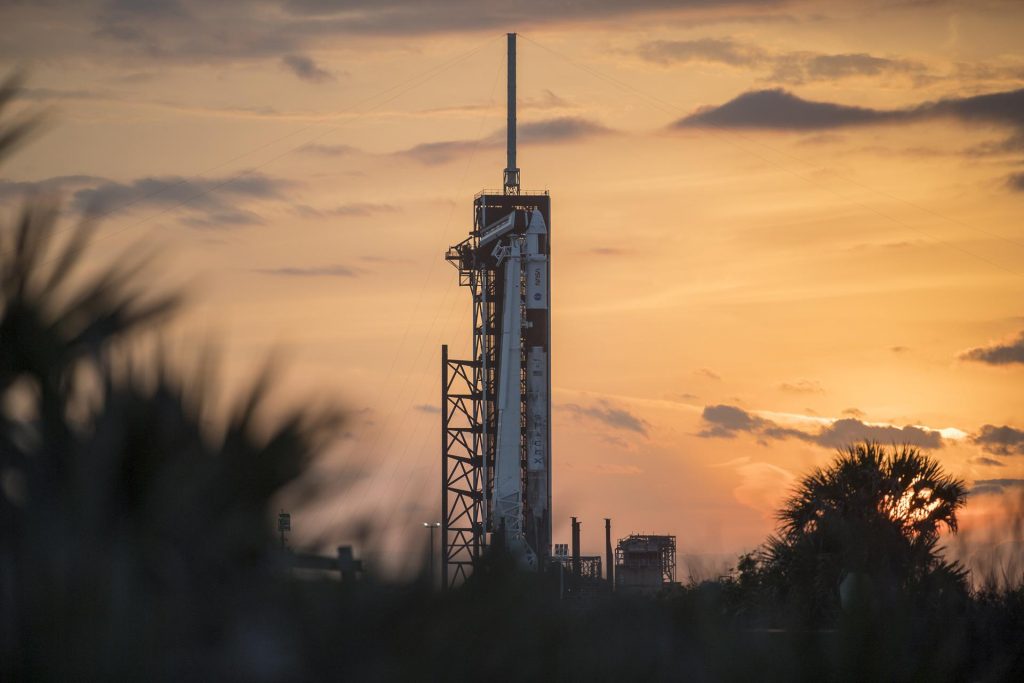 Launch of NASA's SpaceX Crew-2 mission with astronauts to the International Space Station is on track for Friday, April 23, at 5:49 a.m. EDT. The SpaceX Falcon 9 rocket with Crew Dragon spacecraft will lift off from Launch Complex 39A at the agency's Kennedy Space Center in Florida.
NASA astronauts Shane Kimbrough and Megan McArthur, along with JAXA (Japan Aerospace Exploration Agency) astronaut Akihiko Hoshide, and ESA (European Space Agency) astronaut Thomas Pesquet will fly to the International Space Station for a six-month science mission. NASA TV coverage of Crew-2 launch preparations and liftoff will begin at 1:30 a.m. Friday, April 23. The Crew Dragon is scheduled to dock to the space station Saturday, April 24, at approximately 5:10 a.m. EDT.
For an April 23 launch, the U.S. Space Force 45th Weather Squadron continues to predict a 90% chance of favorable weather conditions at the launch pad for liftoff based on Falcon 9 Crew Dragon launch weather criteria. The primary weather concerns for the launch area will be flight through precipitation from isolated, low-topped coastal showers and onshore flow. Conditions continue to improve along the flight path and recovery area for the mission.
Today, Thursday, April 22, is Earth Day. To commemorate this day, NASA is hosting Earth Day in Space. Singer-songwriter Shawn Mendes will join five astronauts living and working aboard the International Space to discuss how we're all #ConnectedByEarth, asking questions from young people around the world about Earth Day, climate change and how the astronauts study Earth from space.
The event will feature NASA astronaut Mark Vande Hei, who recently arrived to the space station aboard a Soyuz, joining NASA astronauts Mike Hopkins, Victor Glover, Shannon Walker, and Japan Aerospace Exploration Agency astronaut Soichi Noguchi, the Crew-1 team who arrived last November. It will air live on NASA Television, the NASA app, and the agency's YouTube channel and website at 11 a.m. EDT April 22.
The Crew-1 astronauts are scheduled to depart the space station at 7:05 a.m. Wednesday, April 28. They will participate in their final news conference aboard the microgravity laboratory at 12:30 p.m. EDT Monday, April 26, about their upcoming return to Earth. Media wishing to participate by telephone must call NASA's Johnson Space Center's newsroom at 281-483-5111 to RSVP no later than 5 p.m. Friday, April 23. The news conference will air live on NASA Television, the NASA app, and the agency's website. Those following the briefing on social media may ask questions using #AskNASA.
Crew-1 worked on a number of experiments as part of Expedition 64 to the International Space Station, including tissue chips that mimic the structure and function of human organs to understand the role of microgravity on human health and diseases, and translate those findings to improve human health on Earth. Astronauts also grew radishes in different types of light and soils as part of ongoing efforts to produce food in space and tested a new system to remove heat from spacesuits.
Follow along with launch activities and get more information about the mission at: http://www.nasa.gov/crew-2. Learn more about commercial crew and space station activities by following: @Commercial_Crew, @space_station, and @ISS_Research on Twitter as well as the Commercial Crew Facebook, ISS Facebook and ISS Instagram accounts.