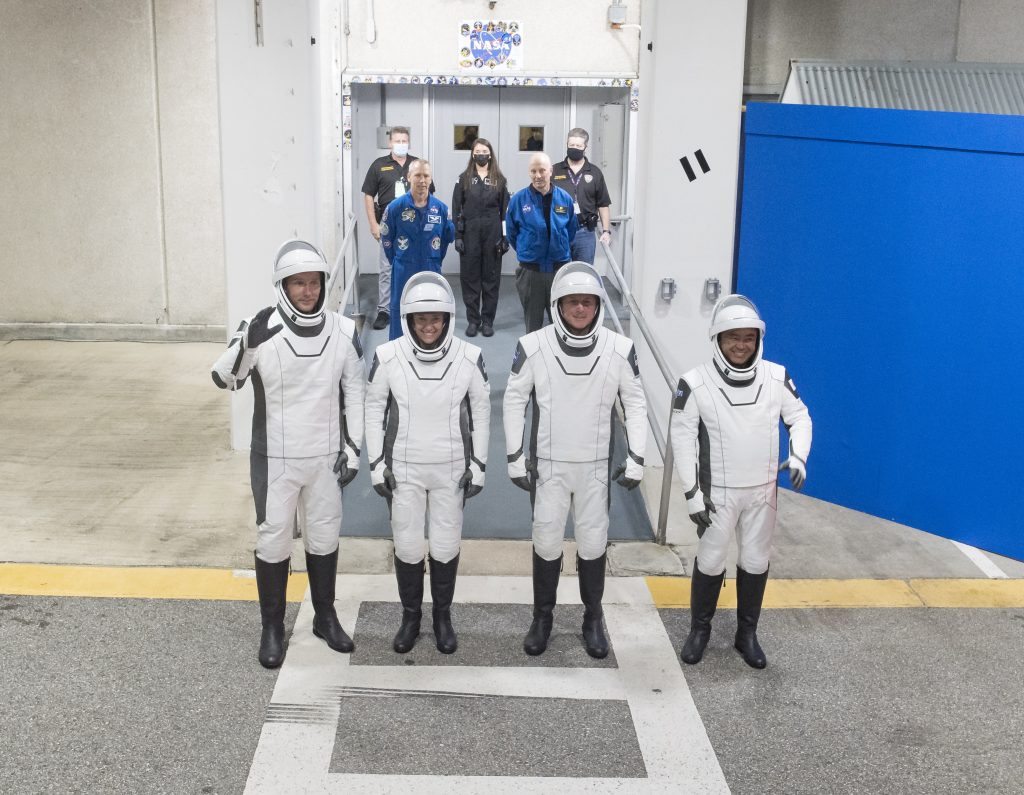 Early this morning, Sunday, April 18, Crew-2 mission astronauts Shane Kimbrough and Megan McArthur of NASA, along with JAXA (Japan Aerospace Exploration Agency) astronaut Akihiko Hoshide, and ESA (European Space Agency) astronaut Thomas Pesquet, completed a countdown dress rehearsal of the launch day events.
Alongside their launch teams, the crew members are preparing for their mission to the International Space Station aboard a SpaceX Crew Dragon, named Endeavour, secured atop the company's Falcon 9 rocket. Crew-2 is the second crew rotation flight of the SpaceX Crew Dragon and the first with two international partners in support of the agency's Commercial Crew Program.
Kimbrough, McArthur, Hoshide, and Pesquet began their day in the Astronaut Crew Quarters inside Kennedy's Neil A. Armstrong Operations and Checkout Building. They put on their black-and-white SpaceX spacesuits, took the elevator down to the ground level and exited through a pair of double doors, where Tesla Model Xs waited to transport them to the launch pad. With smiles and waves, they climbed in for the 20-minute ride to Launch Complex 39A.
The Falcon 9 rocket and Crew Dragon spacecraft moved to the launch pad and into the vertical launch position on Friday, April 16. All four astronauts entered the Crew Dragon by way of the pad's Crew Access Arm and checked their communications systems before the hatch was closed. The rehearsal concluded about 45 minutes prior to the scheduled launch time; lift off is set for Thursday, April 22 at 6:11 a.m. EDT.
More details about the mission and NASA's Commercial Crew Program can be found in the press kit online and by following the commercial crew blog, @commercial_crew and commercial crew on Facebook.