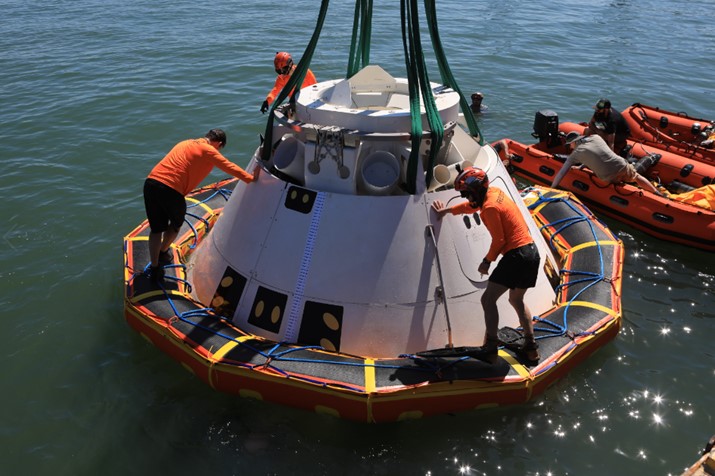 NASA and the Department of Defense Human Space Flight Support (HSFS) Office Rescue Division are conducting a search and rescue training exercise over the next several days at the Army Warf on Cape Canaveral Air Force Station and in the Atlantic Ocean. This is the first at-sea exercise with the Boeing CST-100 Starliner training capsule, known as Boiler Plate 3, ahead of the commercial crew flight test with astronauts targeted for later this year.
The HSFS teams have supported all NASA human spaceflight programs and will be on standby for both NASA's Commercial Crew Program and Orion launches and landings. The team is responsible for quickly and safely rescuing astronauts in the unlikely event of an emergency during ascent, free flight or landing. This multi-day exercise consists of ground- and water- based training to prepare the DoD pararescue team for an emergency situation on ascent. The HSFS teams will rehearse locating the Starliner spacecraft, sending out rescue teams to extract DoD team members, acting as astronauts, from the capsule and providing immediate medical treatment.  The HSFS team will arrange for pickup, transport and follow-on medical care.
At the conclusion of this exercise, HSFS will complete a full mission profile to validate best practices for configuring and air-dropping U.S. Air Force Pararescue team members from a C-17 aircraft with their associated watercraft, specialized rescue equipment and advanced medical capabilities. HSFS conducted a similar exercise with SpaceX's Crew Dragon spacecraft in early December 2018.
This simulation is another example of how safety is being built into systems, processes and procedures for commercial crew missions. It is standard practice to conduct these exercises, and was regularly done during the Space Shuttle Program.
During normal return scenarios, Boeing's Starliner will land on land in a safe zone of about 15 square miles in the Western United States. Throughout the commercial crew development phases with NASA, Boeing has performed dozens of qualification tests on its parachute and airbag systems simulating conditions on land and in the water.