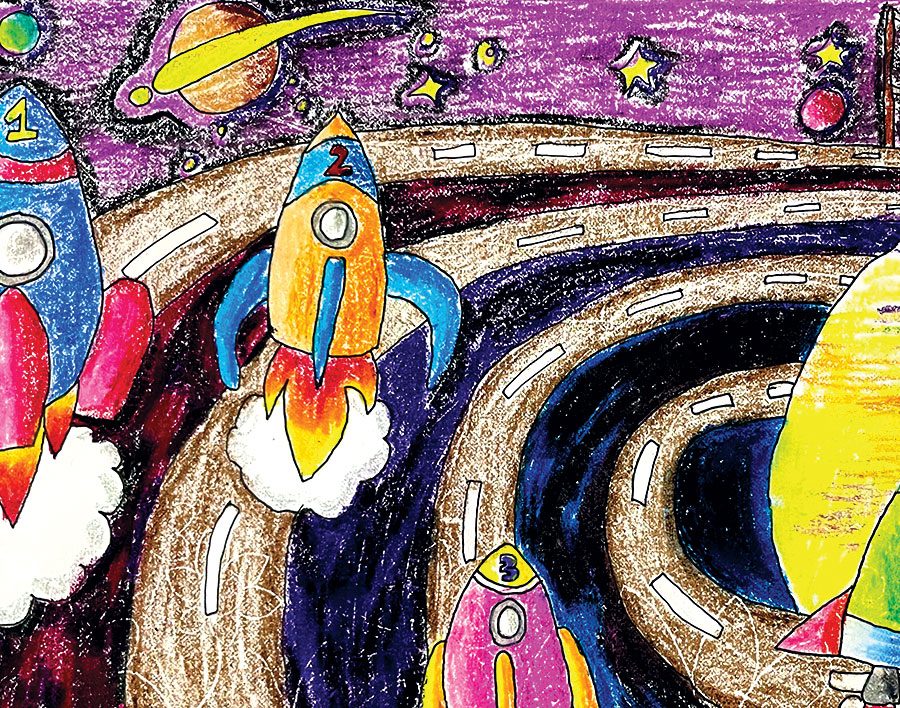 The entries are in for NASA's Commercial Crew Program (CCP) 2022 International Children's Artwork Contest, and the artwork we received is out of this world!
The contest – which ran from Nov. 15, 2021 through Jan. 6, 2022 – asked young artists ages 4-12 years old from all around the world to submit unique and original masterpieces featuring NASA themes such as spacecraft, astronauts, rockets, living and working in space, and exploring the solar system. Young artists from 33 countries submitted over 700 works of art! Entries were judged on originality and composition, and a total of 45 entrants were selected including first, second, and third place winners in each theme and age category to have their artwork displayed in Astronaut Crew Quarters at NASA's Kennedy Space Center in Florida, where Commercial Crew astronauts quarantine before launching into space.
In addition to the CCP Digital Art Gallery below, the winning entries were also combinedhttps://cms.nasa.gov/feature/commercial-crew-artwork-contest to create three printable posters available for download (optimized for standard printing sized 11″ x 17″).
Download the Winning Artwork Poster for Ages 4-6
Download the Winning Artwork Poster for Ages 7-9
Download the Winning Artwork Poster for Ages 10-12
Please take a look at this year's winning artwork and celebrate the amazing creativity of these young artists by sharing the Digital Gallery on social media using #NASA #CCPArtContest!
[wppa type="slide" album="3″ align="center"]
The CCP art contest began in 2017 to celebrate the creativity and vision of the next generation of space explorers. NASA's Commercial Crew Program works with American companies to build new rockets and spacecraft for launching astronauts into space, to places like the International Space Station. The spaceships launch from Florida and take astronauts about 250 miles above the surface of Earth to perform experiments that make our lives better and prepare future astronauts for longer missions to places like asteroids and Mars.