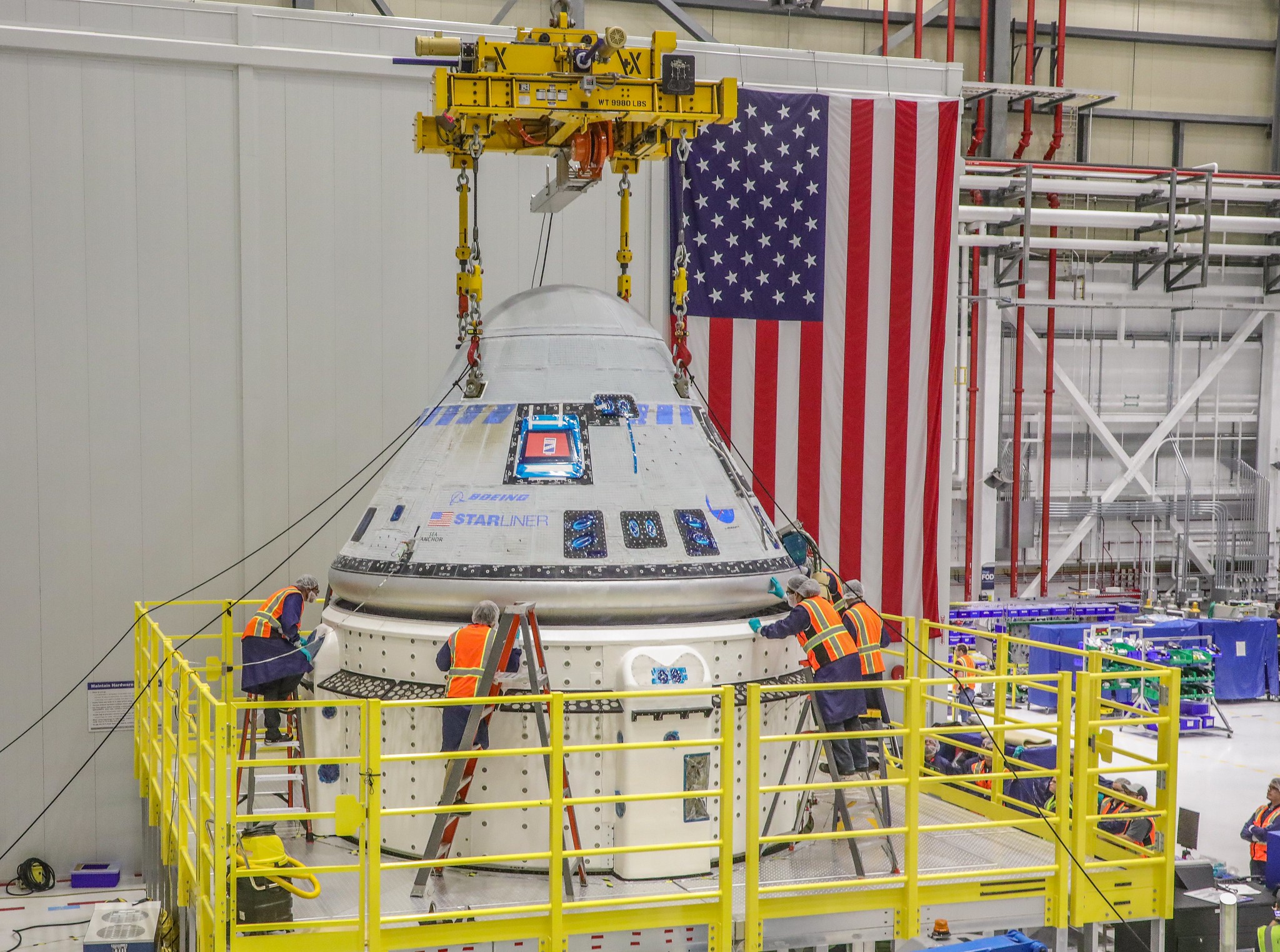 NASA and Boeing are working to complete the agency's verification and validation activities ahead of Starliner's first flight with astronauts to the International Space Station. While Boeing is targeting March to have the spacecraft ready for flight, teams decided during a launch manifest evaluation that a launch in April will better accommodate upcoming crew rotations and cargo resupply missions this spring.
Once the spacecraft meets the agency's safety requirements, NASA's Boeing Starliner Crew Flight Test (CFT) will see astronauts Butch Wilmore and Suni Williams perform the first crewed mission of the spacecraft designed to take astronauts to and from the orbital laboratory.
Ahead of CFT, Boeing has completed P213 tape removal in the upper dome of the Starliner crew compartment and work is underway to remove or remediate the tape in the lower dome of the spacecraft. These hardware remediation efforts inside the Starliner production facility at NASA Kennedy are expected to be completed during the next several weeks. After the P213 tape remediation efforts conclude, engineers will conduct final assessments to ensure acceptable risk of any remaining tape.
A set of parachutes is on track to be delivered and installed on the CFT spacecraft by the end of this year to support the current target launch date. Separately, the team also is planning a drop test of Starliner's updated drogue and main parachutes. The parachutes will incorporate a planned strengthening of main canopy suspension lines and the recent design of the drogue and main parachute soft-link joints, which will increase the safety factor for the system. The drop test is planned for early 2024 based on the current parachute delivery schedule.
Boeing and NASA also are planning modifications to the active thermal control system valves to improve long-term functionality following a radiator bypass valve issue discovered during ground operations earlier this year. As discussed during a Starliner media teleconference in June, teams have modified the spacecraft hardware and identified forward work to prevent a similar issue in the future. Options include a system purge to prevent stiction, component upgrades and operational mitigations.
Additionally, about 98% of the certification products required for the flight test are complete, and NASA and Boeing anticipate closure on remaining CFT certification products early next year. Meanwhile, NASA and Boeing have made significant progress on requirement closures related to manual crew control of the spacecraft and abort system analysis.
The latest version of Starliner's CFT flight software completed qualification testing and is undergoing standard hardware and software integration testing inside Boeing's Avionics and Software Integration Lab. Starliner's crew and service modules remain mated and await continuation of standard preflight processing.
The United Launch Alliance Atlas V rocket also is in Florida at Cape Canaveral Space Force Station awaiting integration with the spacecraft.
The NASA astronauts who will fly aboard CFT continue to train for their roughly eight-day mission to the orbiting laboratory, which includes working with operations and mission support teams to participate in various simulations across all phases of flight.
Starliner completed two uncrewed flight tests, including Orbital Flight Test-2, which docked to the space station on May 21, 2022, following a launch two days prior from Kennedy. The spacecraft remained docked to space station for four days before successfully landing at the White Sands Missile Range in New Mexico.
Follow NASA's commercial crew blog or CFT mission blog for the latest information on progress. Details about NASA's Commercial Crew Program can be found by following the commercial crew blog, @commercial_crew on X, and commercial crew on Facebook.