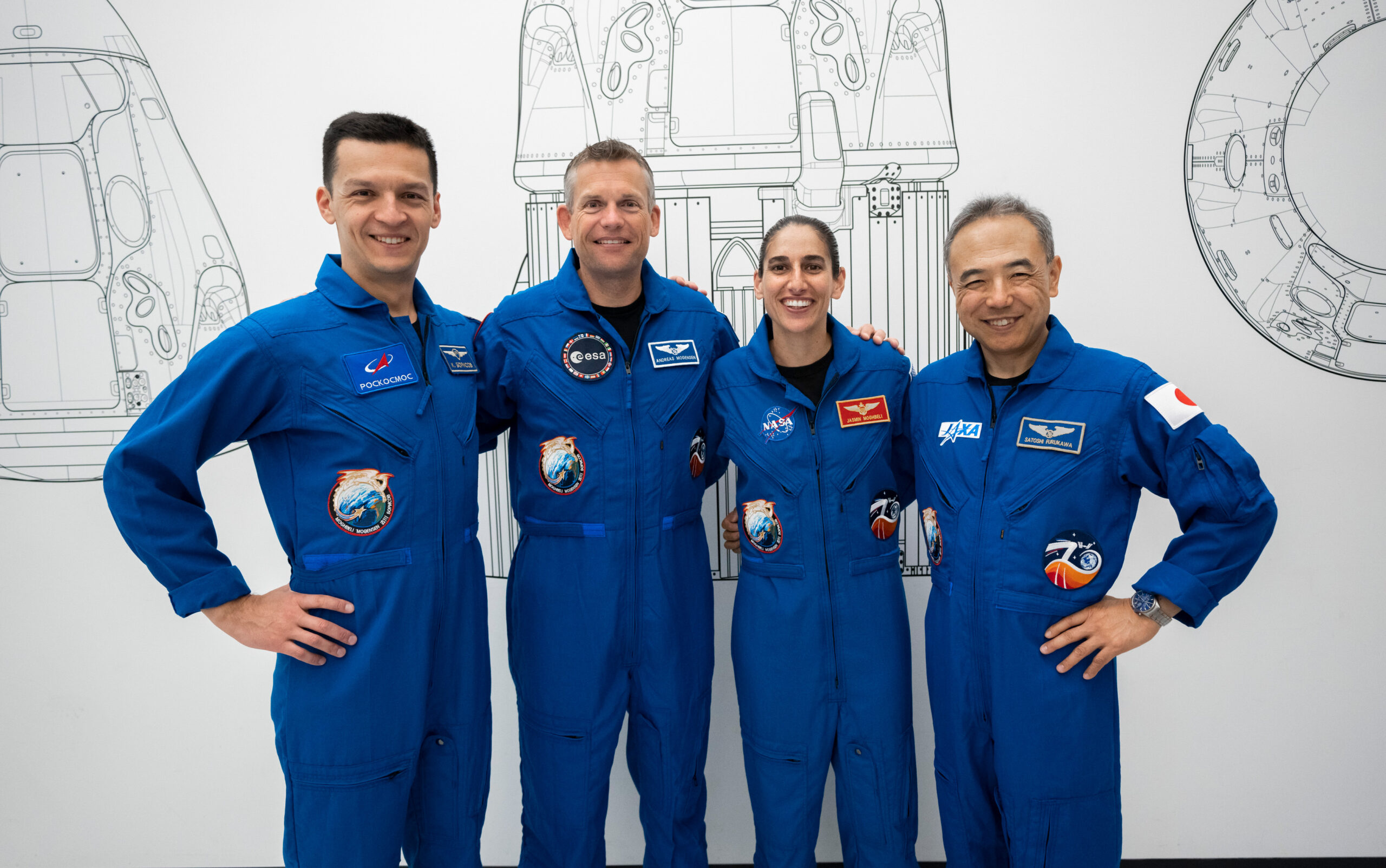 NASA and its commercial and international partners now are targeting launch at 6:56 a.m. Thursday, Aug. 17, for the agency's SpaceX Crew-7 mission to the International Space Station. The new date – a shift of two days – allows for launch pad reconfiguration following a SpaceX Falcon Heavy mission from Launch Complex 39A at the agency's Kennedy Space Center in Florida.
The announcement came during a briefing held July 25 by NASA representatives along with officials from ESA (European Space Agency), JAXA (Japan Aerospace Exploration Agency), and SpaceX. Each agency – NASA, ESA, and JAXA – along with Roscosmos has a crew member among the four who make up the Crew-7 mission. Discussing a range of topics related to readiness for the mission, the officials highlighted the training the crew of four has moved through along with details of the six-month mission and the research that will be performed in orbit across several scientific disciplines.
Mission teams also provided several other updates on upcoming space station missions.
A replay of the mission overview news conference is available on the agency's YouTube channel.
Following the briefing, NASA astronaut Jasmin Moghbeli, ESA astronaut Andreas Mogensen, JAXA astronaut Satoshi Furukawa, and Roscosmos cosmonaut Konstantin Borisov of Crew-7, as well as NASA astronaut Loral O'Hara talked to media about training for their upcoming missions to the space station. O'Hara will launch in September from the Baikonur Cosmodrome in Kazakhstan.
A replay of the crew news conference is available on the agency's YouTube channel.
Crew-7 is the seventh rotational mission to the International Space Station for NASA's Commercial Crew Program. Launching atop a Falcon 9 rocket from Kennedy's Launch Complex 39A, SpaceX's Dragon spacecraft will carry Jasmin Moghbeli, Andreas Mogensen, Satoshi Furukawa, and Konstantin Borisov to the orbiting laboratory.
More details about the mission and NASA's Commercial Crew Program can be found by following the commercial crew blog, @commercial_crew on Twitter, and commercial crew on Facebook.