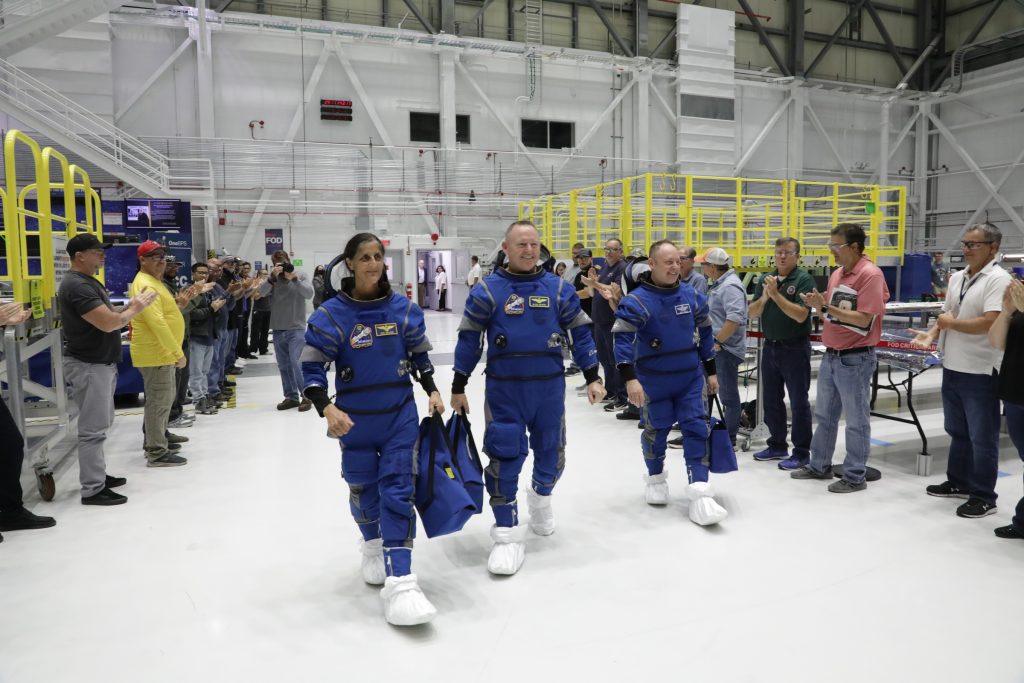 NASA and Boeing teams continue to conduct training and testing ahead of the Boeing Crew Flight Test (CFT), scheduled to launch in April 2023 to the International Space Station for the agency's Commercial Crew Program.
For the crewed flight test, Boeing's CST-100 Starliner spacecraft will launch aboard a United Launch Alliance Atlas V rocket from Space Launch Complex-41 at Cape Canaveral Space Force Station in Florida, returning approximately eight days later in White Sands, New Mexico.
Most recently, the CFT Super Suited Week took place at NASA's Johnson Space Center in Houston in late October through early November. During the training, NASA astronauts Barry "Butch" Wilmore and Suni Williams, CFT commander and pilot, respectively, and Mike Fincke, CFT backup spacecraft test pilot, donned their spacesuits while participating in various simulations, good day and bad day scenarios, and spacecraft ingress and egress. The event also gave the crew extended time to get comfortable wearing their suits.
Prior to that, the astronauts participated in a crew validation test in October to evaluate and fine tune operations. These tests provide astronauts with hands-on training while giving the launch pad crew further experience with crucial tasks. In addition, teams can address issues encountered during previous checks and identify items that still need to be resolved prior to launch.
During the exercise, the astronauts suited up and tested the pressurized crew module to assess seat fit, suit functionality, cabin temperature, audio, and day of launch operations. The teams cycled through different environmental control configurations and flow rates, including oxygen and emergency gas, so the crew will be accustomed to a variety of scenarios on orbit. The astronauts also familiarized themselves with camera, tablet, and wireless application set-up. Communication checks went well between the Mission Control Center and the crew in the spacecraft.
Overall, the training activities gave the astronauts and support teams confidence in operations and built their knowledge base for subsequent flight preparation activities.
"Preparing for this flight doesn't feel like traditional training that Suni and I went through for missions on the space shuttle or Soyuz," Wilmore said. "We're thoroughly embedded in all aspects of developing a brand-new spacecraft, making this more akin to an experimental process. The entire team is learning how to plan, train, and fly Starliner into space."
Following a successful CFT mission, NASA will begin the final process of certifying the Starliner spacecraft and systems for crew missions to the space station. Regular, long-duration commercial crew rotation missions enable NASA to continue the research and technology investigations taking place aboard the orbiting laboratory. Such research benefits people on Earth and lays the groundwork for future exploration of the Moon and Mars, starting with the agency's Artemis missions, which include landing the first woman and first person of color on the lunar surface.
Find out more about NASA's Commercial Crew Program at: https://www.nasa.gov/commercialcrew.